The Worst Pizza on the Planet
What evil mind came up with this pizza combination? Was it the corporate folks at Domino's? Or some neighborhood pizzeria trying to change the world?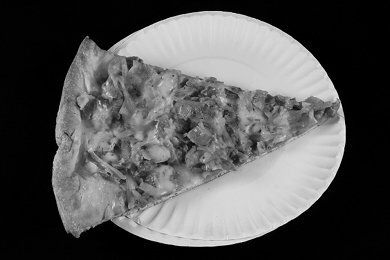 The slice photographed here was bought at Antonio's here in Amherst, Massachusetts (a college town), and is called "Chicken Bacon Ranch".
We recently moved here, and I was told that this place has the best pizza in town. The number of different flavor slices blew me away.
Call me old-fashioned, but I remember when you could just get cheese and added stuff like anchovies, pepperoni, and mushrooms. When did they start putting tortilla chips and salsa on pizza?
I asked the owner which is their most popular slice and the "Chicken Bacon Ranch" won easily. So, because I'm Snack-Girl, I tried a slice. It was SO fatty. Cheese, BBQ chicken, bacon, AND ranch dressing, on a thin crust.
The calorie content is almost TWICE a regular slice of Pizza (250 calories).
It was sweet, fatty, and salty (that addictive combo of tastes that I keep mentioning). This pizzeria was actually cited in Dr. Kessler's book, "The End of Overeating". See the post here:
Would you Like To Add Some Heroin To Your Order?
I think regular Pizza is a healthy snack. And if you load it with vegetables, you are doing great! But, this pizza combination is to be avoided. I guess college students can consume the stuff because they are so active - but us 40 year olds need to stick with boring cheese pizza.
Do you think this is the worst pizza on the planet? Please share below.
Want to read about more snacks?
The Fastest, Healthiest Snack in the West
A Little of This Can Help You Feel A Lot Better
A Habit That May Be Costing You 500 Calories per Day