How To Get The Freshest Chicken Eggs
Snack Girl went "country" when she moved to the middle of nowhere. Plaid shirts, a pick-up truck, and cowboy hats have been added to my wardrobe.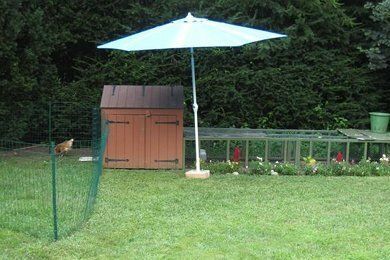 Not really :)
But, what she has been wondering about is keeping chickens in her backyard. The freshest eggs you can get are from chickens in your yard. One of the great benefits of living in nowhere is having a backyard.
These eggs are nutritious, amazingly yummy, and fun! You get a pet AND fresh eggs. How cool is that?
Recently, I made friends with a local backyard chicken activist, John Gerber, who teaches about sustainable food and farming at the University of Massachusetts. He showed me his yard and I was impressed.
He was kind enough to do this interview so Snack Girl readers could learn about backyard chickens (and super fresh eggs).
Snack Girl: Why did you start keeping chickens?
I started keeping hens by accident. I'd been raising broilers (meat birds) for several years. They are all males, since they grow faster and bigger than female chickens. About 5 years ago, one of our 25 "meat birds" didn't gain weight as fast as the other 24.
It was also much more curious and playfull and started wandering around the yard. The other 24 birds mostly sat around waiting to get fed, but this one was different. Turns out we had a female! We named her CJ (after my Mother-in-law, who we called "crazy Jeanne" because she was a creative type.
CJ was a blast to watch. She nested in trees.... went visiting the neighbors yards (but always returned)... walked along the pool fence when we were having a party - she became part of the family.
When it came time to kill the meat birds, I just couldn't kill CJ. I also didn't want to keep just one hen in our yard, so we gave her to a neighbor who had a dozen or so hens and she fit right in. But my interest was peaked.
The hens were fun to have around, so my wife, who works in the schools, brought home 6 chicks that were hatched in her classroom the next spring. We kept the "girls" and were hooked. Now we've got 3-5 hens yearround - and of course eggs as well!
Snack Girl: Is keeping chickens for everyone with a yard? What is the smallest size yard that will work for chicken raising?

I surely don't recommend hens for everyone. It takes very little effort each day to take care of the girls, but it does take daily attention (even if it is just to collect the eggs). I spend a half hour or so once every 10-14 days cleaning the hen house and giving them fresh water and food - that's it.
The key is to provide a house and an outdoor run that protects the birds from predators. The size of the yard isn't important, as they can be kept in a very small outdoor space (as small as 2 ft. by 8 ft would be fine for 3-5 bir although they do like to roam if given the chance). Most chicken folks recommend 2 square feet in the hen house for each bird.
Snack Girl: What are the downsides (if any) to having pet chickens?
The downside to hens is to make sure they have water and food when you are on vacation. We have neighbors that do this for the eggs. Not really a problem! We also have lost birds to predators from time to time.
Its not a happy occasion when you find dead chickens in the yard (mine were due to a coyote and a fisher cat). Of course a good fence would have kept them out - something I learned the hard way.
Snack Girl: What is your favorite egg snack?
My favorite egg snack is surely, one fried egg - sunny side up - with sliced tomato on top from my garden. A great mid-afternoon snack, although not "fast-food".
Snack Girl: Where can we find out more about keeping chickens?
I've created a resource page for folks interested in learning more: Just Food Now. We offer a workshop at a local farm in the spring for folks who want to raise a few hens.
Would you consider keeping chickens?
Want to read about snacks?
BPA-Free Lunch Box - a Green Giveaway for Back to School
A Beet Recipe For Beet Haters
Freezer Jam For Dummies
Want Fewer Dirty Dishes? Try This Healthy Trick