Tomatoes Can Break Your Heart
Snack Girl has a love affair with tomatoes. Sorry, Tom Cruise, I lust after a summer tomato.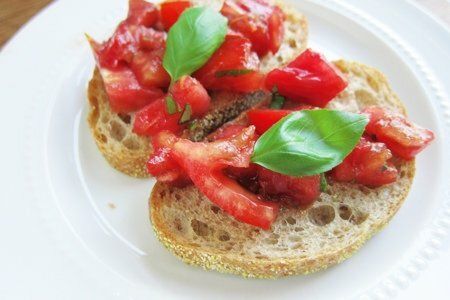 If Tom was to show up on my doorstep with a summer tomato, well........
One of my pals drives around with a salt cellar in his glove compartment so that when he sees a farmstand - he is ready to devour that taste explosion which can be had from a fresh picked tomato (and a dash of salt).
Other than just slicing and eating tomatoes, I like to make "bruschetta" which is an antipasto from Italy. Italians know what to do with tomatoes and this tomato salad on bread is divine.
The key, of course, is the tastiest tomato you can find. Pay a little more for one of those heirloom varieties or make friends with a vegetable gardener. Promise to pull a few weeds if you can get a few tomatoes.
I promise you will swoon.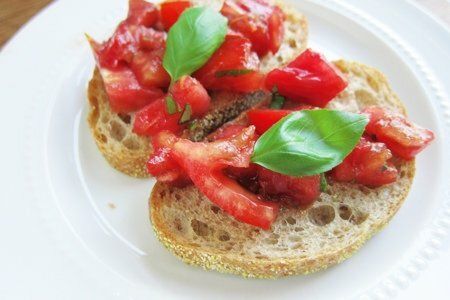 Bruschetta Recipe

Makes 10 rounds

Ingredients
10 slices of really good bread
1 clove garlic

2 pounds fresh tomatoes, seeded and diced
¼ cup fresh basil, chopped
1 teaspoon extra virgin olive oil
2 teaspoons balsamic vinegar (or whatever vinegar you have)
salt and pepper to taste

Instructions
Toast bread and rub garlic on one side. Mix tomatoes, basil, olive oil, vinegar, and salt and pepper and let marinate for 3 or more hours. If you do not have time for marinating, don't worry about it.
Spoon tomato mixture onto toast and serve.
Nutrition Facts
For one round: 45 calories, 0.9 g fat, 8.1 g carbohydrates, 1.5 g protein, 1.3 g fiber, 66 mg sodium, 1 Points+
Points values are calculated by Snack Girl and are provided for information only. See all Snack Girl Recipes
Other posts you might like:
---

You see that leaf of basil up there? I wish that was ME! Why? Because it is 100F, and that soup is COLD....
---

Sometimes the simplest snacks are the best. I suppose the above snack isn't going to win me any awards, but I still wanted to feature it....
---
---
Get Free Email Updates! Yes please!
---