A Low Cal Fudge Snack That Works
The ice cream aisle is flooded with low calorie choices. Last week, I shared one of my favorites - Haagen Dazs small cups.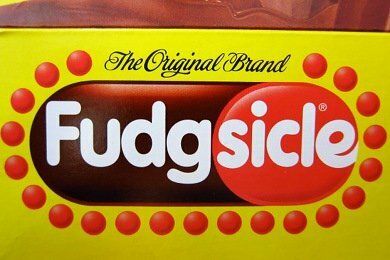 So, when I was staring at the Haagen Dazs (where there wasn't any low calorie chocolate option), and my eyes wandered to the popsicles. There was an old favorite, Fudgsicle, with a green label shouting, "Low Fat - 60 Calories per Pop".
Really?
Turns out that the "Original Fudgsicle" IS only 60 calories per pop. Here are its nutritional facts:
60 calories, 1.5 g fat, 12 g carbohydrates, 1 g protein, 0 g fiber, 55 mg sodium
and the ingredients:
nonfat milk, sugar, corn syrup, whey, high fructose corn syrup, water, palm oil, cocoa processed with alkali, tricalcium phosphate, mono & diglycerides, cellulose gum, guar gum, malt powder, salt, polysorbate 80, polysorbate 65, carrageenan.
So, basically, you get milk, sugar, cocoa, and some chemicals and you get a Fudgsicle!
This isn't really a healthy snack, but if you compare it to eating - let's say a bowl of chocolate ice cream - you are getting a treat without the heavy duty consequences.
I think they are pretty delicious and my kids love them. The popsicle is a perfect portion for treat.
The downsides are:
They go down pretty fast. Before you know it, there is no more Fudgsicle :(
There isn't anything nutritious about them.
They have HFCS and other things you might want to avoid.
The Haagen Dazs small cups ingredient list was much cleaner, but there wasn't any chocolate. Perhaps they will come out with a chocolate sorbet flavor soon.
One note, there were a couple different types of Fudgsicles in the freezer including "sugar-free". This version contained artificial sweetener which I avoid feeding my kids. Just buy the "Original Fudgsicle".
What do you think of Fudgesicles?
Want to read about snacks?
Simple, Delicious, and Low Calorie Smoothie Recipes from Camp Shane
How To Avoid Wasting Carrots
A Healthy Snack Friend In The Ice Cream Aisle
Make Winter Warmer With Apple and Peanut Butter Oatmeal