A Healthy Snack Friend In The Ice Cream Aisle
Snack Girl tends to avoid the frozen foods aisle. Why? Well, when she sees the 2 for $5 Ben & Jerry's she gets weak in the knees.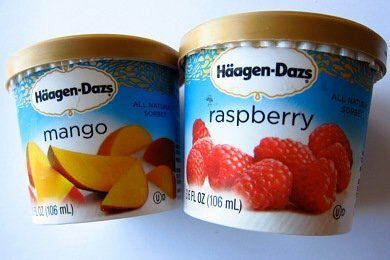 Well, now she can strut her way down the aisle and reach for these little containers of Haagen Dazs. It seems the folks at Haagen Dazs have been thinking about people watching their weight.
These containers are 3.6 ounces and they include a SPOON. How cool is that? Actually, the really cool part is that the sorbet and the frozen yogurt contain 110-160 calories depending on the flavor you choose.
A WARNING: there are other small container flavors such as "STRAWBERRY" that are 300 calories. Not all of the small containers are low calorie.
Here are the ingredients for three flavors I bought:
Mango Sorbet: water, sugar, mango puree, lemon juice concentrate, pumpkin juice concentrate, carrot juice concentrate, natural flavor pectin - 140 calories
Raspberry Sorbet: water, sugar, raspberry puree, corn syrup, pectin, lemon juice concentrate - 110 calories
Vanilla Frozen Yogurt: skim milk (lactose reduced), corn syrup, sugar, egg yolks, cream, vanilla extract, active yogurt cultures - 160 calories
Why am I showing you the ingredients? Many low calorie ice cream options have a bunch of chemicals in them to make them low calorie.
My problem with chemicals, such as artificial sweeteners, is that I don't like the way they taste. There is this flavor that I will immediately recognize as fake and then I just want to toss out the container.
The nice thing about these packages of Haagen Dazs is:
They are delicious.
They were 3 for $4 (not that expensive).
All the ingredients are recognizable.
The downside of these treats is all the packaging. These containers are not green and that is something that Haagen Dazs should work on.
Of course, if I could just resist a massive tub of ice cream in my freezer and just scoop out my 100 calorie treat - then I wouldn't have to buy all these cute containers. Fat chance.
Please share any friends you have made in the ice cream section.
Want to read about snacks?
The Worst Snack of 2010
Holiday Weight Gain: Fact or Fiction?
Low Calorie Comfort Food - It Exists!
Make Winter Warmer With Apple and Peanut Butter Oatmeal