Delicious Gluten-Free Cereal With The Ingredients You Love (Giveaway)
Snack Girl wastes a lot of time in the cereal aisle. It takes FOREVER to look at all the labels to try to understand what I am truly buying.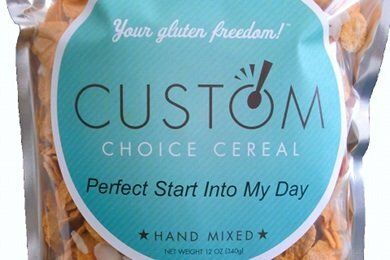 What if I just gave up and bought my cereal online?
And, what if I could choose the ingredients that go into that cereal so I could make my cereal perfect?
Perfection in anything I do would be fabulous right now :)
Hajo Engelke, Founder of Custom Choice Cereal, is a fellow small business owner, with what I think is a good idea. He saw that there was a dearth of gluten-free cereal options and created his own company dedicated to providing a source for delicious cereal.
I designed my own cereal on his site and was pleasantly surprised by the results. I was supposed to share this cereal with my family, but I forgot.
The ingredients were high quality and were really not comparable to buying a box of cereal at the supermarket. It is like an entirely different animal.
Of course this quality, convenience, and control is going to cost you. Prices vary by what ingredients are added, but the base price for the cornflake cereal is $4.69 for a 12-ounce, stand-up pouch, and $4.99 for granola.
The cereal is shipped to you. Shipping is an additional $4.80 for the first bag, but the per-bag shipping cost drops if more than one bag is ordered.
Kids will love designing their own cereal - so if you are trying to get Jimmy off of Cocoa Puffs - this is a great option.
Hajo is giving away a bag of cereal to one of you. To enter just check out Custom Choice Cereal and comment about what you would mix in your cereal.
Follow Custom Choice Cereal on its pages on Facebook and on Twitter.
This product was received for review consideration. No other compensation was provided.
---
What will I win?

One 12 ounce customized bag of Custom Choice Cereal.
How do I enter?
Visit Custom Choice Cereal and comment below on what you would put in your cereal.
Additional Ways To Enter:

Follow Snack-Girl on FaceBook. Comment on the FB page on your cereal additions.

Follow Snack-Girl on Twitter and Tweet this post (use the Tweet Button in the Share Box at the top of this post).

Snack-Girl can follow and count all the additional entries using magical website tools.
Am I eligible to enter?
This giveaway is offered to US residents only.
When do I find out if I am the winner?
The winner will be announced on March 18th, 2011. You will have 2 weeks to e-mail us back with your home address so we can mail the prize.
Want to read about snacks?
Try This Healthy Pie.....Naked
Love Breakfast Sausage but Hate Jimmy Dean? Try This!
Can Domino's Deliver A Healthy and Tasty Meal?
Green Thing...You Make My Heart Sing