A 130 Calorie Donut
Can you reduce a donut by half its calories and retain something that tastes good?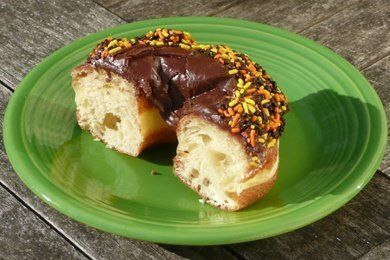 Sure! All you have to do is cut the donut in half. Simply put, a Doughnut is 260 calories. So, now you are looking at a "cookie" portion of a doughnut.
Getting in the habit of slicing a donut in half - and either leaving the other half for someone else - or just tossing it in the trash immediately isn't easy.
Doughnuts are delicious and ubiquitous. How many meetings have you been to with Doughnuts? Do you have a drive-thru Doughnut store minutes from your house?
My kids think the drive-thru Doughnut store is magic, but I think it is evil. You don't have to even walk to get your Doughnut? Is that cruel or what?
So, you need a strategy when confronting these delicious junk-food concoctions. Don't decide you can't have them, because then they loom in your mind. Denying yourself pleasure is almost IMPOSSIBLE to do.
My advice - slice it in half and toss. If you do it every time, you will enjoy what you ate - have a treat - and add less to your waist-line.
What is your strategy when faced with a plate of doughnuts? Please share below.
Want to read about snacks?
How to Replace Butter without Sacrificing Flavor
No-Bake, Nut Butter, Oatmeal Cookie
Save Money, Calories, and the Environment with this Yogurt
Quick and Healthy Pizza