Who Else Wants Bacon?
What is bacon doing on Snack Girl? This site is supposed to be healthy!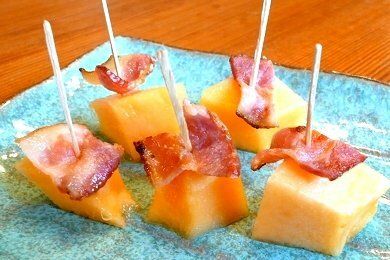 You can't deny that bacon is really the poster child for "Most Likely To Give You Heart Disease". Basically, fat and salt, this stuff is ridiculously tasty and to be eaten SPARINGLY.
One great way to eat it is to add it to something healthy like cantaloupe. Cantaloupe just showed up at my grocery store for $2 each, and I am excited. This is one of those foods that gives you a great taste, keeps in your refrigerator for a week, and is low calorie.
I have been asked many times how to tell if a cantaloupe is ripe. Unfortunately, the measure of ripeness is how easily it falls of the vine. Don't feel bad if you cut it open and it isn't ripe. (It has happened to me many times.)
I have to admit to forgetting that I had posted this snack on the website until Tinsley reminded me! See below:
I found this on YouTube when I decided to create my own YouTube Channel which features my classic "Flaming Fritos" video.
I love how she gets excited about COOKING in this video (using a toothpick to spear cantaloupe and bacon). I hear you, Tinsley. Her VLOG is called Celiebo and she shares her thoughts, recipes, challenges as she goes gluten free.
My advice - watch the video - make the snack - and enjoy a little bacon.
Please share your thoughts on bacon.
---
Bacon Cantaloupe Bite Recipe
1 slice bacon
1/4 cantaloupe
toothpicks

Cook bacon in pan or microwave (using paper towels). Cut bacon and cantaloupe into 10 small pieces. Spear bacon and cantaloupe with toothpick.
115 calories, 8.0 g fat, 3.1 g carbohydrates, 7.3 g protein, 0 g fiber, 444 mg sodium, 3 Points+
Want to read about snacks?
Three Reasons To Avoid Yoplait Greek Yogurt
Replace French Fries with This Easy and Healthy Snack
Try This: Vegan Toast
Now You Can Eat A Banana Split Without Splitting Your Pants