How to Make Dinner Time Easier (and Healthier)
Imagine it is six o'clock, do you know what you are cooking for dinner?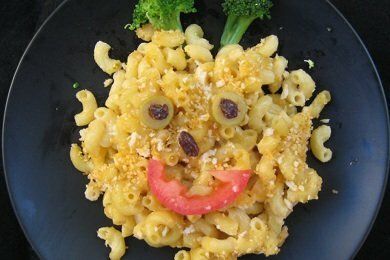 Today, we are taking a detour from our usual "snack" content and talking about dinner. Cooking dinner is a challenge for most of us because we are short on time.
But, we need to cook dinner because almost ANYTHING we make will be better than take-out (for example the meat lovers special from Pizza Hut).
What if you had 5 days of dinner planned out for you, none of the recipes took longer than 30 minutes to prepare, and you could print out a shopping list to take to the grocery store?
Aviva Goldfarb has come up with a family friendly, healthy, and delicious plan for us stressed out individuals and families - The Six O'Clock Scramble.
I met Aviva recently at a foodie gig and I was really impressed with her devotion to helping people with their healthy eating challenges. I have been even MORE impressed by her recipes.
For the last month, I have tried out the The Six O'Clock Scramble and more than once my daughter has said, "Can we eat this every night?". Okay, ummm, what about the food I was cooking before I was following Aviva?? sniff.
(In addition to her service, Aviva has also authored two cookbooks. "SOS! The Six O'Clock Scramble To The Rescue" was just named one of the best cookbooks of 2010 by The Washington Post -see below.)
Her recipes feature ingredients that are easy to find, the dinners are easy to make, and everyone likes them. We have had a couple duds, but that would be true of the recipes I attempt without Aviva's guidance as well.
But, the thing that really gets me (as someone who is devoted to healthy cooking) is that her recipes are HEALTHIER than my "usuals". For example, her "Artichoke Pasta Bake" featured 20 ounces of artichokes and only 8 ounces of pasta - and my kids weren't put off my the artichokes.
They ate EVERYTHING on their plates.
This service isn't just for families. Individuals who want to cook more can use it and just freeze the extra servings for a later date. Think of all the money you will save on frozen dinners!
On the The Six O'Clock Scramble you can find example recipes and menus and all sorts of information on how to customize your menu (yes, this will work for vegetarians).
Aviva is offering Snack Girl readers a special deal. Between now and December 25th, you can get special savings on all subscriptions (including gifts) with the promo code HOLIDAY10.
Go to the Subscribe Page and enter HOLIDAY10. You will save $5 on all 6 month gift subscriptions (just $24.50 after discount), $2.50 off 3 month subscriptions (just $17), and $10 off 12 month subscriptions (just $44.50).
Check it out and let me know what you think of it!
This product was received for review consideration. No other compensation was provided.
Do you have a secret for the 6 O'Clock meal scramble?
---
$30.99 $14.35 Buy on Amazon.com
As an Amazon Associate I earn from qualifying purchases.
---
Want to read about snacks?
A Pumpkin Spice Latte With 77 Calories
McNugget Rot Results Are In!
Give the Gift of A Healthy Snack (Your Friends Won't Even Know Its Healthy!)
Fast, Delicious, Healthy - What Else Could You Want?