Simply Lovely Valentine's Day Breakfast
You don't want to kill your Valentine with killer food, do you? Show your love by making something healthy.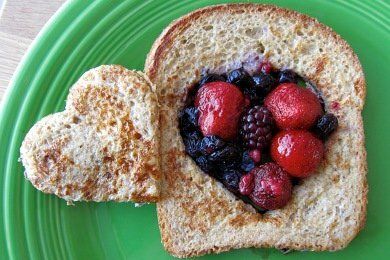 They might not even realize that the breakfast featured above is healthy because it tastes so delicious. Yes, French toast can be a healthy breakfast.
There are a couple ways to ensure your French toast will be healthy. The first is to use 100% whole grain bread which will ensure that you get fiber and protein in the bred.
The second way is not to use a tablespoon of butter to cook the French toast. I KNOW it tastes good, but it adds saturated fat and calories and French toast tastes great without it.
I use an olive oil cooking spray and lightly coat the pan before I put down my slice of toast. Honestly, I don't miss the butter.
Finally, dress it up with some frozen berries. The berries above have just been thawed in the microwave and are still warm (dreamy).
The warmed berries are like an instant fruit compote and are so welcome in the middle of winter when a fresh berry is going to cost you an arm and a leg (and probably taste like styrofoam).
The key to making French toast cute is a cookie cutter - but you can use a glass for making a shape if you don't have a cookie cutter. Just use the lip end and push down to cut out a circle.
So, this recipe worked out to 125 calories per slice of toast. If you added some syrup or confectioner's sugar, it is still a very reasonable snack (1 slice) or breakfast (2 slices).
How do you make French toast?
---
Berry French Toast Recipe

(makes 2 slices)
1 egg
1/4 cup milk (almond, soy, cows, etc.)
dash of spice - cinnamon, nutmeg, allspice, etc.
2 slices 100% Whole Grain bread
1/4 cup frozen berries
Low fat cooking spray

Beat egg, milk, and spice together. Heat griddle or non-stick pan over medium heat. Add cooking spray and dip bread in egg mixture. Place on griddle and cook for 3 minutes on one slide. Flip and cook for one more minute until egg is cooked through. While toast is cooking, thaw berries in microwave (about 30 seconds on high). Cut center of toast with a cookie cutter and pour berries into the whole. Enjoy!
For one slice: 125 calories, 3.7 g fat, 15.3 g carbohydrates, 7.4 g protein, 2.5 g fiber, 175 mg sodium, 3 Points+
Want to read about snacks?
Panini Extreme Makeover (Take THAT Quiznos!)
"Creamy" Wild Mushroom Soup
The Benefits of Cheese Sticks
Love S'Mores? Try This 52 Calorie Treat