How To Make Healthy Nachos
I know what you are thinking. The words "healthy" and "nachos" do not belong together in a sentence. But, Snack Girl has been sent a new product that has changed her mind.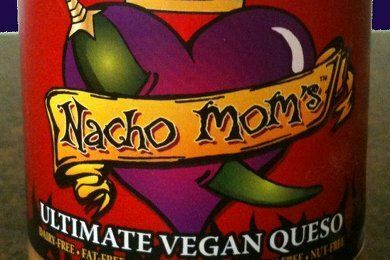 I get a lot of products mailed to me and I try them all. This one, Nacho Mom's Ultimate Vegan Queso, seemed to be like something that I would hate.
The ingredients (tomatoes, water, nutritional yeast, unbleached flour, green chiles, paprika, salt, garlic powder, citric acid, calcium chloride and spices) are all ones that I recognize but I couldn't understand how it could taste like CHEESE.
True confession: my favorite unhealthy snack is nachos (followed by donuts). I can't resist them! I love the crunch, and I love the cheese. An order of classic nachos at Chili's is 1600 calories with 50 mg of saturated fat.
I'm sorry nachos, but we can't go on like this anymore. I love ya, but you are killing me :(
Enter my new friend: Nacho Mom's Ultimate Vegan Queso! The entire 16 ounce jar is only 160 calories!! For you Weight Watchers fans out there, the ENTIRE JAR is 2 points.
From the website:
When an award-winning Texas chef goes vegan, everything good happens...except for the cheesy Tex-Mex cravings that wouldn't go away. When no other recipe or product in the universe came even close to "the real deal" of mom's cheesy queso recipe, hours in the kitchen perfecting the ultimate vegan queso resulted in the mind-blowing all-natural queso perfection with the same Southwestern taste and creamy texture, but better.
Chef Alana has made something revolutionary. It tastes like cheese mixed with salsa that go on nachos. Honestly, the taste and texture is very close to the original.
Of course, your next problem is going to be the chips, so if you keep it down to 10 chips - your entire serving of nachos (without sour cream or meat) is going to set you back 150 calories.
You could eat the ENTIRE bag of chips and a jar of this stuff for 1200 calories. (I am not suggesting you try that :).
Who needs chips? You can use it on your steamed broccoli, as a dip for crudites, served on a baked potato, or mixed in your Beans and Rice. Use it where you would like a spicy cheese to make things creamier.
Currently, you can find it mostly in Texas or online (see: where to find vegan queso). Alana has managed to get her product into Whole Foods in January. A jar will set you back $4 and there is $7 for shipping depending on where in the country you live (and how many jars you order).
I know the price is steep, so you might have to wait until it shows up in a store near you.
How do you deal with cheesy cravings?
This product was received for review consideration. No other compensation was provided.
---
Want to read about snacks?
A Ridiculously Simple and Elegant Party Snack
Got Apples? Try This Awesome Healthy Snack
Essential Snacking Tips From Snack Girl
Healthy Halloween Candy