This Gadget Will Change Your Life
An apple has a tough time competing with a bag of Doritos.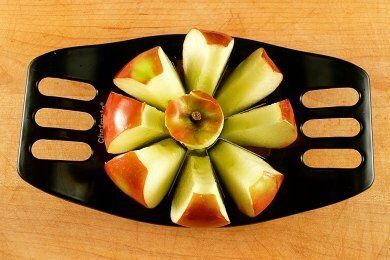 There is no sparkly bag to reach out and grab you. How do you turn your apple snack into an appealing treat?
Buy an apple slicer! (or two - one for work and one for home)
I know you are thinking that you don't need another gadget to clutter up your kitchen drawer. So, don't keep it in your drawer. Use it EVERY day and keep it next to your toaster.
AND, you can make the ultimate of healthy snacks - apple and peanut butter.
Yes, for a mere 170 calories you get an entire medium sized apple and a tablespoon of peanut butter to fuel you until your next meal. This snack has it all -protein, vitamins, fiber, sweetness, saltiness, crunchiness,....deliciousness...yummmm
People ask Snack Girl all the time, "What is your favorite snack?". Apple and peanut butter ALWAYS wins. As long as I can get a fresh apple (my favorite is Granny Smith) then I am in heaven.
My kids adore this slicer because they can "make" their own snacks. Buy the OXO one featured below because it is soft enough for their little hands. They will grab the slicer, go get the apple out of the fridge and feel happy about their accomplishment.
Bring a slicer to work with you and a jar of your favorite peanut butter. If you keep a slicer at work, you don't have to worry about your apple slices turning brown.
Here is my June article on peanut butter: How To Choose Healthy Peanut Butter
For one medium apple and one tablespoon of peanut butter:
189 calories, 8.4 g fat, 28.3 g carbohydrates, 4.5 g protein, 5.3 g fiber, 75 mg sodium, 3 Points+
What do you serve with your apple slices?
---
$11.95 $11.39 Buy on Amazon.com
As an Amazon Associate, I earn from qualifying purchases.
---
Want to read about snacks?
Kashi Cereal Bars - Are They Healthy?
Give the Gift of A Healthy Snack (Your Friends Won't Even Know Its Healthy!)
You Won't Miss The Butter In This Holiday Banana Bread
Make Winter Warmer With Apple and Peanut Butter Oatmeal