Healthy Banana Pudding from Jack LaLanne
Before Jillian Michaels, Jane Fonda, and Zumba there was Jack LaLanne. He presented fitness and exercise advice on TV for 34 years!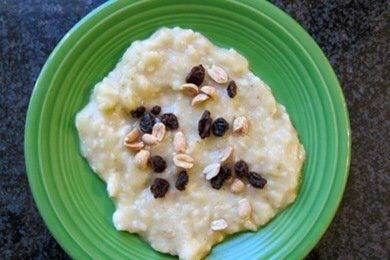 To be honest, I hadn't heard about him until a reader, Susan Fine, shared him with me. She is on a journey to get healthy and she is using Jack LaLanne for her inspiration.
She writes:
This is the beginning of my love affair with Jack LaLanne. I don't really know Jack. But I am in love with his encouragement and his faith that we can revitalize ourselves at any age. And, he's funny.
One day at a time, for the next twelve weeks, I will follow what Jack promotes. I will embrace what he advocates. I will revitalize my life. And, I will work on facing reality: If I want to age well, I have to do weights and aerobic exercise and eat wisely for the rest of my life. Sigh.
I feel you, Susan! And, this video is just fantastic. I wish I had made it myself:
From the video:
There are more unhealthy, more out-of-condition Americans going around, people with aches and pains and flabby muscles and low energy. People with bad eyes and bad teeth and bad skin because they eat too much gooey, high calorie desserts!
Umm, yeah.
This guy's show, "The Jack LaLanne Show" was the longest running television exercise program. He promoted whole foods and believed that processed foods were toxic. Why didn't we listen?
Follow Susan's journey with Jack LaLanne on her website: Susan Fine, and try Jack's dessert (recipe below). The dessert will set you back about 200 calories if you use all of the ingredients.
I used peanuts in mine because I didn't have any grated coconut. The idea here is to have something sweet and "decadent" without any butter, eggs, or processed sugar.
Kids will love watching the video and making the snack. Give it a try!
What do you think of Jack LaLanne and his snack?
---
Jack LaLanne's Healthy Dessert Recipe

(makes 1 serving)
1 banana
10 raisins
1/4 cup grated coconut
touch of honey (optional)
Mash banana and spread on plate or put in bowl. Add raisins, coconut, and honey (if desired). Enjoy!
1 serving without honey: 218 calories, 7.2 g fat, 41.2 g carbohydrates, 2.4 g protein, 5.4 g fiber, 7 mg sodium, 3 Points+
Want to read about snacks?
How Did Bill Clinton Lose All That Weight?
What Happens When You Mix Pepsi and a Hard Boiled Egg?
How To Make Healthy Nachos
Don't Toss These Out!