Don't Toss These Out!
Who likes to feel like their hands are in worm guts? You? The slimy inside of a pumpkin is a SCARY place.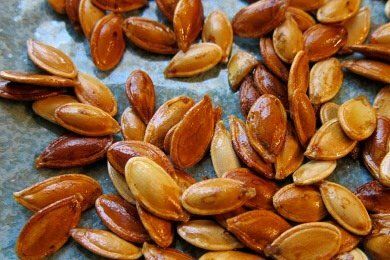 But, don't decide to toss out the seeds because it is to disgusting to separate them from the stringy orange stuff! This is a really great and nutritious snack food just waiting for you to stuff in your purse, lunch box, or backpack.
When you are carving your pumpkin, use a bowl to collect the insides so you can glean off the seeds for a yummy snack.
Pumpkin seeds are nutritious (ex: 28% of your DV of Iron in 1/4 cup) and they are easy to cook. They are a snack that will work in a nut free workplace or school. It makes me sad that so many people have nut allergies because nuts are really nutritious.
If you can't eat nuts, then eat SEEDS. Seeds such as Sunflower Seeds are as nutritious as nuts, portable, and delicious. You can find packages of sunflower seeds and pumpkin seeds in convenience stores.
The great thing about roasting pumpkin seeds yourself is that you can customize the flavor. Below, I have included a recipe that goes to the salty side of the taste spectrum. Add some cayenne and you will have a spicy and salty snack.
You could try some sugar and cinnamon, or add pumpkin spice. Whatever your favorite spice flavors - just toss them on the seeds. I suggest trying 1/2 teaspoon for one cup of pumpkin seeds to start because you might overwhelm them with flavor.
The key to washing the pumpkin seeds is to toss them into a colander and run some warm water on them. Then just strain the seeds through your hand as you detach them from the orange strings. (It isn't really that yucky :)
Please share your pumpkin seed ideas.
---
Roasted Pumpkin Seeds Recipe

(makes 8 servings)
1 cup pumpkin seeds
1 tablespoon oil
1/2 teaspoon salt
1/2 teaspoon cumin, curry powder, cayenne, or black pepper (optional)

Preheat oven to 350 F. Line a rimmed baking sheet with tin foil. Remove strings from pumpkin seeds and put in a small bowl. Dry with a paper towel and mix in oil, salt, and spices. Put seeds on baking sheet and roast for 20 minutes (or until golden brown). Toss seeds after about 10 minutes to cook evenly (or you can skip it).
108 calories, 9.6g fat, 3.1 g carbohydrates, 4.2 g protein

Want to read about snacks?
100 Calories of Snack From Russia
Essential Snacking Tips From Snack Girl
A Ridiculously Simple and Elegant Party Snack
Healthy Halloween Candy