See How Easily You Can Turn Cauliflower Into An Awesome Snack
Wouldn't it be cool if the snack aisle of your supermarket had bags of delicious cauliflower? Alas, you are going to have to break out your kitchen knife and make your own.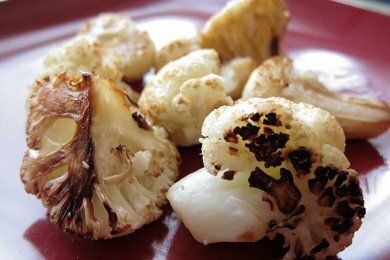 Cauliflower is one of those veggies that takes on the flavors you add to it. I find it pretty tasteless on its own and its raw consistency can be, well, strange.
The key to great cauliflower is to season it and then cook a TON of it for later snacking. If there is a container of roasted cauliflower sitting in my refrigerator, I will eat it before I touch anything else because it is so yummy.
This roasted cauliflower recipe is definitely for kids because they can get involved doing the mixing and spreading the cauliflower out on the pan. My kids will eat this if they had a hand in making it - and I convince them it will taste as good as a cookie.
There are two steps to this recipe and the first requires marinating. I know it is onerous to marinate food, but in this case it does make a difference.
The good news is you can make a tray of this and it will last at least a week in the refrigerator. The extra work will pay off!
To make this recipe into a more adult flavor, add the pepper. The pepper makes it spicy so you have a sweet and sour taste that is divine. It also makes a great party snack and you can make it ahead and just serve it from the fridge.
What is your favorite way to serve cauliflower?
---
Roasted Cauliflower Recipe

(serves 4)
8 cups cauliflower from one large head
1/8 cup soy sauce
1 tablespoon vegetable oil
1 teaspoon sugar
1/2 teaspoon ground black pepper (optional)

Chop cauliflower into small florets. Preheat oven to 450 F. Mix ingredients together in a large bowl and marinate for 20 minutes mixing once. Place on aluminum foil lined, rimmed baking sheet and roast for 20 minutes. Serve hot, cold, or room temperature.
For one serving = 88 calories, 3.6 g fat, 12.3 g carbohydrates, 4.5 g protein, 5.1 g fiber, 509 mg sodium, 1 Points+
---
Want to read about snacks?
This Is Not Your Mother's Rice Krispie Treat
Replace French Fries with This Easy and Healthy Snack
Weight Watchers Friendly Recipes on Snack Girl
A Color You Should Be Eating More Of