Elegant, Easy, and Under 100 Calories
When you get tired of your apple and peanut butter, you need to go gourmet for your snack.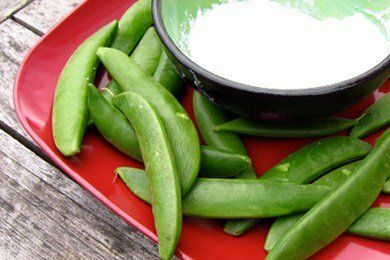 This idea is simple. Sugar Snap Peas and WARM goat cheese for a pre-dinner snack to stop the grab for the potato chips.
Sugar snap peas have a delicious crunch, take ZERO preparation, and pack 34% of your daily value of Vitamin C in just 10 peas!
Goat cheese is just what you think it is - cheese made from goat's milk instead of cow's milk. This cheese is tangy and creamy (and little bit pricey). I bought a 4 ounce package of goat cheese for $4.50 at my local supermarket.
The key to eating cheese and keeping trim is not to eat too much of it. One ounce is a perfect serving for goat cheese and because it is strong in its flavor - you really don't want more.
How do you get it warm? It is VERY important that you don't heat it for more than 10 seconds in a bowl in your microwave. I did that and it was very sad how my goat cheese separated and turned, well, yucky.
Now, you have a creamy dip for your snap peas in a flash and you have avoided sour cream or other higher in fat dips.
For my Weight Watchers fans, this snack is only TWO Points+ and you can eat as many snap peas as you want.
I don't actually know if my kids went for this because I was too stingy to give them any. I did pack the sugar snap peas in my daughter's lunch box today - let's see if they come back :)
I also love little pieces of toast with goat cheese spread on it. You heat these up in a toaster over or a broiler for a very short period of time - and you have this dreamy snack. Add it to a salad like croutons, and you can create a meal.
10 snap peas + 1 ounce of goat cheese is 94 calories, 6 g fat, 3.6 g carbohydrates, 6 g protein, 0.9 g fiber, 45 mg sodium, 2 Points+
Have you tried goat cheese? Please share how you serve it.
Want to read about snacks?
A Dip that Won't Kill You
Celebrating Easter? Wow Your Family with This Luxurious Low Cal Dip
How To Make A Healthy and Glamorous Snack
Fastest, Easiest, and Tastiest Guacamole