The Cheater's Guide to Healthy Yogurt
Is it possible to find a yogurt that tastes great and doesn't inflate your waist? Yes! Does yogurt have to have Sucralose or other artificial sweeteners to be low calorie? No!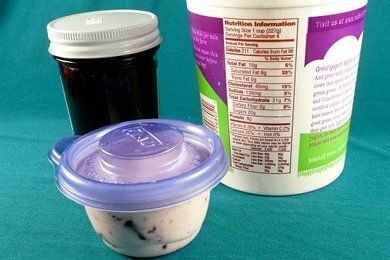 You can cheat Yoplait, Chobani, Fage, or any other yogurt manufacturer by creating your own packaged yogurt (and save some money, too).
You do have to do a little work - but it is worth it. All you have to do is mix your favorite brand of PLAIN yogurt (no-fat, greek, low-fat, all the fat) with your favorite jam (fruit, sugar, no sugar), in a small REUSABLE container.
Think of how great you will feel as you save the environment by keeping and washing your yogurt container!
The containers photographed here are from Glad, they are BPA free, and approved for your dish washer (top rack). They retail for about $2.00 for 8 containers.
And they contain only 60 calories! I added 4 ounces of non-fat yogurt (50) and 1 teaspoon or so of jam (10). This may not be enough sugar for some of you - but you can add more and then get used to having less.
Or you can add Stevia or another sweetener. IT IS UP TO YOU. You don't have to worry about added stuff that you didn't want in your yogurt in the first place - for example So What's Inside Yoplait Yogurt Anyway? (there are a bunch of other brands that add yucky stuff too).
As for the cash you will save, a large container of yogurt might cost you $3 for 32 ounces (8 servings) and lets say $3 for the jam. That is $6 for 8 servings and you can usually get Yoplait Strawberry Yogurt (on sale) for 4 for $5.
So, it will cost you (without the cost of the containers) $6 versus $10 for your yogurt. A savings of 40%!
Of course, this is going to vary based on your part of the country and what you choose to buy - but it is, on average, cheaper to mix your yogurt yourself.
What do you mix in your yogurt?
---
currently unavailable Buy on Amazon.com
As an Amazon Associate, I earn from qualifying purchases.
---
Want to read about snacks?
You Will LOVE This 81 Calorie Egg Recipe
Save Money, Your Waistline, And The World By Making Your Own Cereal
A Surprise Finding, Starbucks Serves Breakfast Sandwiches
Are Canned Peaches A Healthy Snack?