You Can Make Your Own Donuts (Without A Deep Fryer)
Snack Girl has a donut problem. She can tell you within a five mile radius where all the delicious donuts can be purchased.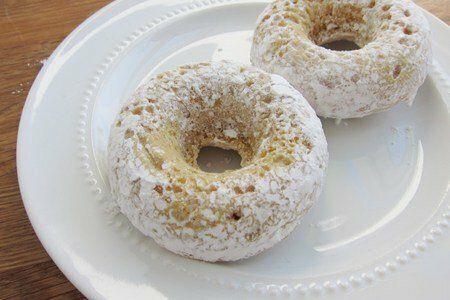 In fact, Saveur rated a cider donut (about two miles from my door) as the NINTH best donut in America. Yikes!
When I saw the donut pan below on another food blog, I was excited. Moi? I could bake my own donuts? Could it be as good as a deep fried donut?
I told a few friends about my idea and everyone thought I was nuts. But, I had to try because of the awful nutritional facts for donuts. For example - Little Debbie powdered sugar cake donut:
290 calories, 13.0 g fat, 2.5 g saturated fat, 39.0 g carbohydrates, 18.0 g sugar, 5.0 g protein, 1.0 g fiber, 400 mg sodium, 8 Points+
That is just one!!! The sodium here is what I wasn't expecting. Why is it 400 mg? That seems out of control for a sweet food.
I drove to Bed, Bath, and Beyond and bought the donut pan below for $9.99 for my experiment. Then I fooled around with the recipe adding white whole wheat flour and reducing the sugar and salt.
This is what they looked like out of the oven: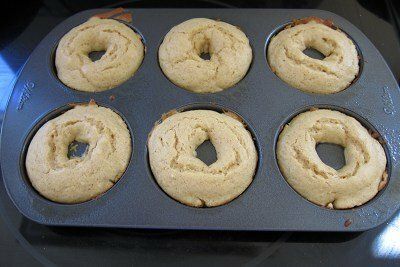 I gotta tell you, these were good. Part of the reason is that they are warm out of the oven when you eat them. Yum! They are fluffy, not too sweet, and have a nice cake texture.
This recipe is the base recipe for other additions (such as blueberries or cocoa powder). If you guys like these, I can keep working on new flavors.
Would you try to make your own donuts?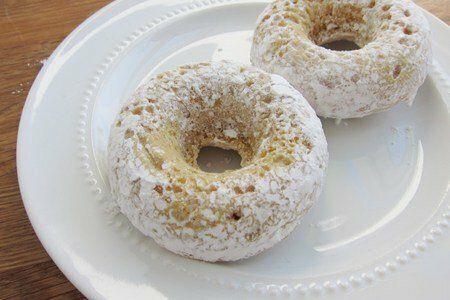 Cake Donut Recipe
Makes 6 donuts
Ingredients
1 cup white whole wheat flour
1/4 cup sugar
1 teaspoon baking powder
1/4 teaspoon ground cinnamon
1/4 teaspoon salt
1/2 cup buttermilk
1 egg
1 tablespoon butter, melted
confectioner's sugar (optional)
Instructions
Preheat the oven to 425 F. Spray a donut pan with non-stick spray.
Mix together the flour, sugar, baking powder, cinnamon and salt in a medium sized bowl. Add the buttermilk, egg, and butter and mix until well blended.
Spoon into donut pan and fill wells until 2/3 full. Bake for 7-9 minutes until top of doughnut springs back from your touch. Allow to cool for 4-5 minutes before removing from pan.
In a ziploc bag, add about 1/4 cup confectioner's sugar. Add donut and shake until coated (repeat). Serve warm or store in a sealed container for later.
Nutrition Facts
136 calories, 3.2 g fat, 1.6 g saturated fat, 23.8 g carbohydrates, 10.0 g sugar, 4.3 g protein, 2.1 g fiber, 143 mg sodium, 4 Points+
Points values are calculated by Snack Girl and are provided for information only. See all Snack Girl Recipes
---
$10.39 $9.50 Buy on Amazon.com
As an Amazon Associate, I earn from qualifying purchases.
---
Other posts you might like:
---

Snack Girl reserves black and white photos for foods that trigger people to eat. One of my pals told me that my photo of onion rings made her hungry and ever since then I use black and white....
---

Do you think I am talking about that muffin top above? Naahhhh.....
---
---
Get Free Email Updates! Yes please!
---