Kale Chips
There are bunches of kale ready to eat in someone's garden right now. What are you going to do with it all?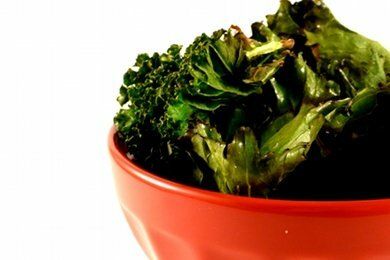 Try Kale Chips!
Can you name another food gives you a whopping 350% of your daily allowance of Vitamin A per serving (and 11% of your iron, too)!
True confession - I hate kale, BUT, after I tried this I decided I liked kale. There is something about adding olive oil that makes vegetables taste good like with the Green Beans with Olive Oil.
The recipe is really simple, and kale is readily available this time of year. It is crunchy and delicious and you find that you can eat an ENTIRE bunch of kale without noticing.
My kids will even eat kale with this preparation (something about salty crunchiness that stops the "EEEWW its GREEN" response).
The Eat More Kale movement started in (guess where?) Vermont. I have seen a few cars driving around with "Eat More Kale" bumper stickers.
I have to admit that there is probably no better food for you than Kale. It is an absolute SUPERSTAR in terms of nutrition.
Here is the recipe I modified from Kath Eats:
---
Kale Chips
(Makes 2 servings)

1 bunch kale (or 1/2 pound)
2 teaspoons good quality olive oil
salt to taste

Preheat oven to 375 F. Line rimmed cookie sheets (also called hotel pans) with parchment paper (see note below). Tear the leaves off the thick stems into chip sized pieces. An easy way to do this is to fold the leaf in half and just rip toward the stem. Spread pieces out on cookie sheets. Drizzle with olive oil and sprinkle salt to taste. Bake 8 minutes or until edges are brown and kale is crispy when moved in pan.
If you don't have parchment paper, you can use aluminum foil or neither. The idea here is to make clean up easy (just toss the paper and then you have less work to do).
---
What are you going to do with all that kale?
Want to read about snacks?
Are You on A See Food Diet?
Got Watermelon? Try This Awesome and Simple Recipe
A Nutritious, Nutty, and Chocolately 100 Calorie Snack
How To Pick A Healthy Jam or Jelly