Love Cheese? Try This 35 Calorie Alternative
When you get people talking about their favorite cheese, stars start forming in their eyes.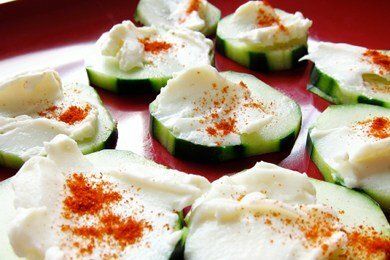 Vermont cheddar, French Brie, and Dutch Gouda are all favorites. I must admit that my love of cheese is one of the reasons for the tire around my waist. Especially in winter, all I want is cheese.
I have tried my share of low fat cheeses for this website. All of them up to this point have tasted like salted rubber or there is an after taste that is just plain gross.
But, I hadn't tried "The Laughing Cow" Light until they sent me a round of their "French Onion" flavor. I did MEET The Laughing Cow once at a conference see here: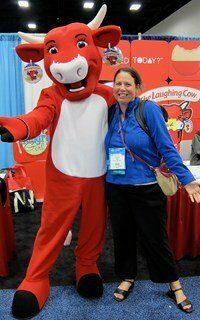 After that ridiculous photo op - I took a photo of this sign because it made me laugh: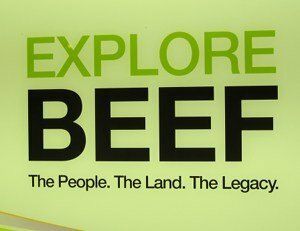 But, I digress.
I tried the French Onion Light and was like, "Where have you been hiding?". It actually tasted like cheese! And, I can spread it on 10 rounds of cucumber to make a very low calorie and cheesy snack.
It is salty, creamy, and with a dash of paprika - almost gourmet. Seriously.
My pal Marla doesn't like the texture (too creamy for her to consider it cheese) but she says she buys the "Original" for her kids. My kids started eating my cheese - which was $3 for 8 ounces at my local grocery store. They like the pre-portioned triangle shape.
Here is the ingredient list:
Light cheddar, cheddar, swiss, and semisoft cheeses (cultured milk and skim milk, salt, enzymes), whey, cream, sodium phosphate, onion, sodium citrate, salt, natural flavor
and the nutrition facts for one wedge:
35 calories, 1.5 g fat, 1 g carbohydrates, 2 g protein, 0 g fiber, 210 mg sodium, 1 Points+
I found them in the dairy section next to the cream cheese in my local supermarket. For a cheese lover who needs to cut back - this is a great option.
Have you tried Laughing Cow? What do you think?
This product was received for review consideration. No other compensation was provided.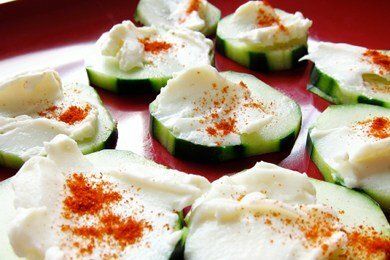 Cheese And Cracker Makeover

(serves 1)
1/2 cucumber
1 wedge "The Laughing Cow" French Onion Cheese Wedge
paprika (optional)

Peel cucumber and slice 10 slices. Spread cheese on cucumber, add a dash of paprika, and serve!
58 calories, 2.2 g fat, 6.5 g carbohydrates, 3.5 g protein, 0.8 g fiber, 263 mg sodium, 1 Points+
Points values are calculated by Snack Girl and are provided for information only. See all Snack Girl Recipes
Other posts you might like:
---

The nice thing about individually packaged food is that you know exactly how many calories you are going to inhale....
---

When you get tired of your apple and peanut butter, you need to go gourmet for your snack....
---
---
Get Free Email Updates! Yes please!
---