Satan Would Hate This Recipe
Yes, this photo does look like "deviled" eggs, but Snack Girl has a fix to make them much less evil.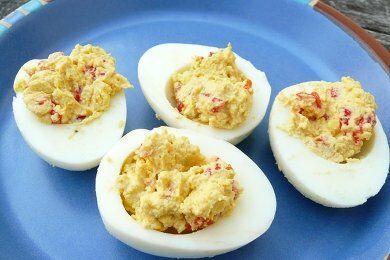 The big problem with deviled eggs is that the recipe usually includes large amounts of mayonnaise. Mayonnaise is 90 calories per tablespoon.
So, if you can get rid of most of the mayonnaise in the recipe, you have a healthy snack. Eggs are really nutritious and on their own are only about 70 calories.
The recipe below uses Dijon mustard and roasted red pepper to provide flavor and creaminess to the hard boiled eggs. Here are some other suggestions for tasty deviled eggs:
Add 1 teaspoon of curry powder
Use cottage cheese or greek yogurt instead of the mayonnaise
Add chopped pickles (sweet or dill)
Add a dash of horseradish
Whatever you do, USE LESS MAYONNAISE.
If you really like eggs, it can be fun to have an "Egg Cooker" featured below. I haven't tried it personally, but it is on my "cool kitchen appliances that I must have one day when I have more space in my kitchen" list.
My librarian, Sue, gave me a great idea for peeling many hard boiled eggs. After you cook them, put them back in the pan and just shake it. The eggs get cracked evenly and it is SO easy to peel them.
Sue learned this trick from a 92 year old who is clearly very wise.
Please share your "angeled" eggs ideas!
---
Angeled Eggs Recipe

(serves 4)
8 hard boiled eggs
1/4 cup diced roasted red pepper
2 tablespoons Dijon mustard
1 tablespoon mayonnaise

Peel hard boiled eggs, slice in half and remove egg yolks. Place egg yolks in a bowl and mix in mustard, mayonnaise, and roasted red peppers. Adjust seasons and spoon back into egg whites. Serve at room temperature or cold. If serving 4 people, each serving is 4 egg halves (which is about 150 calories).
PS: To hard boil eggs, place them in a sauce pan. Cover with water, bring to a low boil for 12 minutes.
For one serving = 148 calories, 2.9 g fat, 2.7 g carbohydrates, 11.5 g protein, 0 g fiber, 265 mg sodium, 4.5 Points+
---
currently unavailable Buy on Amazon.com
As an Amazon Associate, I earn from qualifying purchases.
---
Want to read about snacks?
Sugar Free Gum Without Artificial Sweeteners or Colors? It Exists!
Who Else Wants Bacon?
The Secret Of Building A Healthy Body (For People With Little Time or Money)
Now You Can Eat A Banana Split Without Splitting Your Pants