Think Choosing Subway Is A Healthy Choice? Check This Out
What is wrong with this picture? Anyone?... Bueller?......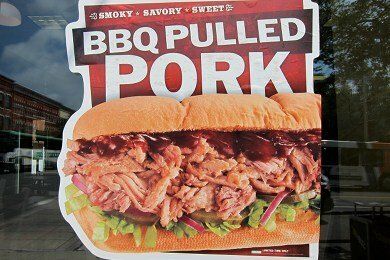 That is one HONKIN' slab of meat.
Usually, Snack Girl purchases food for review and then gives you the skinny - but I could not waste $3.50 on this clearly unhealthy offering from Subway.
How do I know it is unhealthy? Well, just look at it! Does that look like 8 ounces or more of meat?
Here are the nutritional facts for a 6 Inch Subway BBQ Pulled Pork Sandwich:
570 calories, 17 g fat, 68 g carbohydrates, 56 g protein, 5.0 g fiber, 1340 mg sodium, 16 Points+
Nutritional facts for a McDonald's Big Mac:
540 calories, 29 g fat, 45 g carbohydrates, 24 g protein, 3 g fiber, 1040 mg sodium, 14 Points+
So the Big Mac has 30 less calories and less sodium than the Subway BBQ pulled pork sandwich. Subway is the world's biggest sandwich chain - even bigger than McDonald's - and their motto is "Eat Fresh".
Are Michael Phelps and Jared Fogle eating THIS sandwich?
My problem with Subway isn't that they are serving a BBQ Pork Sandwich. The fact is that they are going to serve whatever we want to buy. But, many people believe that Subway is the healthier choice because it's marketing juggernaut has convinced us of it.
You have to be VERY careful when you order at a Subway restaurant. I reviewed the problems with the Subway Veggie Delight here: SUBWAY Veggie Delight: FAST But Fresh and Healthy?.
Some tips for Subway ordering:
Avoid the MEAT sandwiches and stick to the Veggie Delight
Do not buy the cookies, soda, or chips
Order a 6-inch sub and ask for light mayo (or zero mayo)
The last time I watched The Biggest Loser, the contestants visited a Subway. They did specific things like hollow out the bread and order low calorie dressing on their sandwich.
If you make these kind of alterations to your sandwich, you will get a lower calorie option and if you load it with veggies - this can be a healthy choice.
Use your common sense! Keep in mind that a Subway Buffalo Chicken with cheese isn't that different from a McDonald's Quarter Pounder with cheese.
Do you go to Subway? What do you order?
Want to read about snacks?
Agave Nectar: of Gods or of Hype?
Starbucks Bistro Box: A Grab and Go Under 500 Calorie Lunch
Chill Out With Some Watermelon Tomato Soup
Makeover The Best Selling Salad Dressing In America