A 530 Calorie Drink That Is Everywhere You Look
Anyone else notice the ad campaign that happens as McDonald's rolls out a new beverage or food item?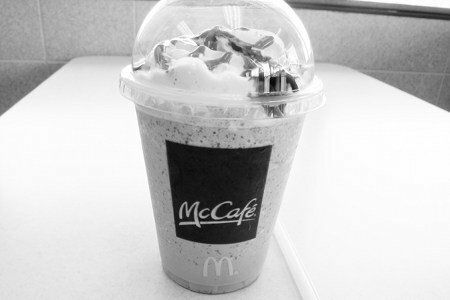 There are billboards, TV ads, radio ads, and then comes the COUPON in your Sunday paper. I found my coupon for the McCafé Frappé Chocolate Chip in a copy of the New York Times.
I decided to check it out for Snack Girl and cut out my coupon. Of course, because I am Snack Girl, I looked up the nutrition facts before I went:
For 12 ounces = 530 calories, 24 g fat, 74 g carbohydrates, 66 g sugar, 7 g protein, 1 g fiber, 140 mg sodium, 15 Points+
Don't get me started on the 630 calorie medium! Yikes!
There was a young woman with a coupon in front of me in line and I had this dilemma. Should I tell her how many calories are in the drink she was buying? How would I phrase it?
"Excuse me, miss, put the drink down. See my cape? I am Snack Girl and that drink is 530 calories!!!!"
Then I remembered that she hadn't clicked on me, so I kept my big mouth shut.
When I first wrote about the Frappé, I was blown away by its 560 calorie label see: 560 Calories For Your Rapid Consumption From McDonald's. McDonald's started McCafé to compete with Starbucks and the Frappé is the obvious competitor to the Starbucks Frappuccino. A 12 ounce (Tall) Cookie Crumble Frappuccino is a mere 310 calories at Starbucks.
I am actually recommending the 12 ounce Cookie Crumble Frappuccino as a healthier choice. You save 220 calories by choosing the same size drink at Starbucks.
While I am at it, a 12 ounce can of Coke is a better choice at just 140 calories. I'm sure I can come up with tons of suggestions that are still really unhealthy that are STILL healthier than the McD's Frappé.
We can all agree that this drink is a treat wherever we get it. If you like these kind of drinks, I have two truly healthier suggestions:
1. A Chocolate Shake With Only 116 Cals
2. An Iced Coffee Solution To The Liquid Calorie Problem
How do you deal with your frappucinno love?
---
Other posts you might like:
---

How do you get 560 calories into a 16 ounce drink? That takes the talent of a major global corporation: McDonald's (of course)....
---

You know, I could really use some wings right now. These legs are just not working for me....
---