What You Should Know About Snack Wraps
McDonald's is not somewhere I would usually go for a snack. But, sometimes, you are stuck. Because I write about snacks, I was curious about the McDonald's Snack Wrap and I was hopeful that it was a healthier alternative to their usual menu.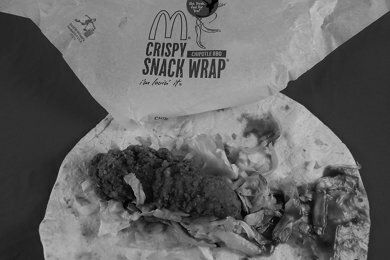 Well, I purchased the Chipotle Barbeque Snack Wrap (crispy) because it sounded great! I love Chipotle sauce and I love crispy. But, since I had to report on my findings, I asked for something that is really no fun.
I asked for the nutrition facts for the food I was about to consume. If you want a buzz kill - go ahead and ask for the nutritional facts at any chain restaurant. I have done this a couple times - at Chili's for example - and have been blown away by the calorie content of the food.
330 calories and 15 grams of fat later, I was feeling bad. The first thing is that the wrap consists of a soggy tortilla, measly lettuce, and a sprinkle of tasteless cheese. The chicken was deep fried and tasty and the BBQ sauce was sweet and tangy. The combination was pretty awful except for the Chipotle taste.
The Small Hamburger at McDonald's only has 250 calories! Of course, it is snack sized compared the Quarter Pounder.
You can get a grilled Snack Wrap option that sets you back around 260 calories - same as a Doughnut and pretty similar in terms of nutritional content.
A review of the list of nutrition facts led to only two snacks below 200 calories - the Fruit 'n Yogurt Parfait (160) and the Vanilla Reduced Fat Ice Cream Cone (150). You can also get a salad without cheese, chicken, and dressing and get below 200 calories.
What did I learn? If you go to a chain - ask for the nutritional facts - BEFORE you order. The information will help you choose something that makes sense for your waistline.
How do you deal with fast food venues? Please share!
Want more like this?
Cheesy and cheery to make you chunky
Would you like an order of fat with your burger?
What Everybody Ought to Know about Chips Ahoy