How To Incorporate Veggies in Your Breakfast
Snack-Girl is always looking at great snack ideas - and What's Gaby Cooking? is an inspirational food blog.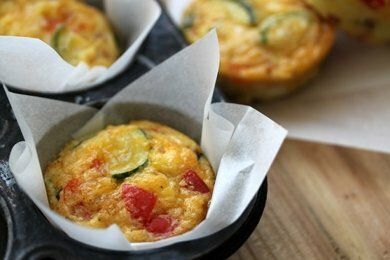 Gaby features home cooking with a gourmet twist and she takes amazing photos. Above is her photo and it makes me want to buy that camera I've been dreaming about. Of course, I still couldn't take photos like this even with a great camera.
Her Mini Egg Frittata recipe is a great way to start your day with vegetables. They are also super cute!
(The wax paper isn't used in the recipe - it was just for photographic purposes.)
From What's Gaby Cooking? :
I have never been much of a breakfast person. Well, unless its a jumbo double chocolate chip muffin which has been heated up in the microwave for 25 seconds so the chocolate chips just barely start to melt and then each bite just warms you up a bit as you devour the entire thing in less than 2 minutes.
But, like I said, I have never been much of a breakfast person. I usually just grab a glass of Orange Juice, maybe a few pieces of dried fruit and call it a meal. Lately, since I have been training for my half marathon, I am having to eat a little more of a substantial breakfast so I can get through my runs with plenty of energy.
The last thing I want to do in the morning is make a mess of my perfectly cleaned kitchen which is why these mini frittatas are the perfect thing for me! You can make them with any vegetables you have laying around your kitchen, a bit of cheese and any herbs you have as well and you have yourself one perfect breakfast!
The even better thing about these is that you can make them once or twice a week and then just grab one of two out of the fridge as you need them. Its seriously simple. And delicious. And perfect…
---
Mini Egg Frittatas Recipe

(makes 10 frittatas)
1 red bell pepper, diced
1 yellow bell pepper, diced
1 zucchini, diced
1 small onion, diced
1 cup grated Parmesan cheese
8-10 eggs, beaten together
2 tbsp chives
salt and pepper to taste
olive oil for drizzling

Preheat oven to 350 degrees. In a large 10 inch skillet heat the olive oil over medium high heat. Saute the diced zucchini, onion and red and yellow bell peppers for about 5 minutes until they are slightly soft. Season with salt and pepper. Add the sauteed vegetables to individual muffin molds.
In another bowl, whisk together 8 eggs and season with salt and pepper and add the chopped chives. Fill the remaining area in the muffin tin with the egg and stir the ingredients together. Sprinkle the top with the Parmesan cheese. Bake in the oven for 10-12 minutes until the eggs are completely set. Serve warm or cold.
What do you use your muffin tins for? Please share.
Want more like this?
Feeling Crabby? Try This Cure
DIY Cereal For A Healthy Snack
A 130 Calorie Donut