Try This Instead of The Shamrock Shake
Can you see the green in there? That isn't food coloring.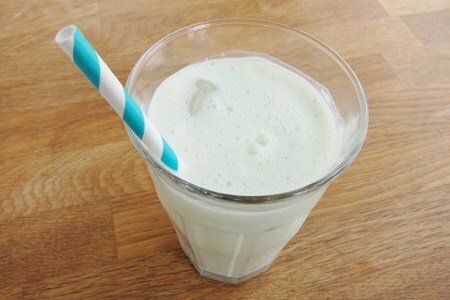 The color is from mint leaves and I am proud of myself for making my own mint flavored smoothie. Before we go any farther, I have a confession. This is a savory smoothie not a sweet one. I happen to love yogurt with stuff other than fruit in it.
BUT, if you want to make over the famous McD's shamrock shake make this: Make Your Own Healthier Version of A Wendy's Vanilla Frosty. Add a couple drop of peppermint extract and you should be good to go.
My smoothie is made with plain yogurt, fresh mint leaves, cumin, and salt and I serve it over ice. You can make a blender full of it and store it in the fridge. It is refreshing, creamy, and may stop all sorts of cravings for other drinks because it is so satisfying.
I can almost always find fresh mint leaves next to the other fresh spices in the produce section. You have to use fresh leaves for this to work.
Here are some sweet smoothies for the sweet tooth crowd:
Have you tried savory smoothies?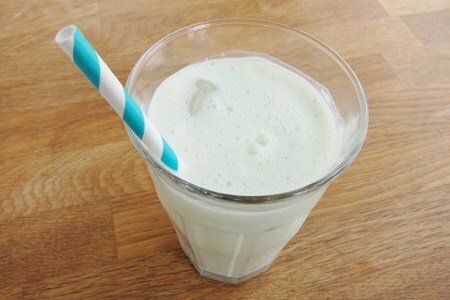 Cumin, Mint, & Yogurt Smoothie Recipe

Ingredients
2 cups plain yogurt (low fat or whole milk)
½ cup fresh mint leaves, torn up and loosely packed
½ teaspoon ground cumin
½ teaspoon salt

Instructions
To make the smoothie:
Place all of the ingredients into blender and blend until smooth. Store in refrigerator for up to four days.
To serve:
Fill glass with ice cubes and add 4 ounces of smoothie. Add ¼ cup sparkling or still water and stir with a spoon. Enjoy!
Nutrition Facts
93 calories, 1.6 g fat, 1.2 g saturated fat, 9.7 g carbohydrates, 8.6 g sugar, 7.4 g protein, 0.8 g fiber, 380 mg sodium, 2 Points+
Points values are calculated by Snack Girl and are provided for information only. See all Snack Girl Recipes
Other posts you might like:
---

How about a smoothie face off to see which product is the healthiest? This should be fun!....
---

How many of you have been to the Mediterranean? If you lived there you might not have to worry about heart disease....
---
---
Get Free Email Updates! Yes please!
---