A Pumpkin Pie Smoothie For Fall
Last week, I introduced Fall with a no bake pumpkin oatmeal cookie. But, I had a problem.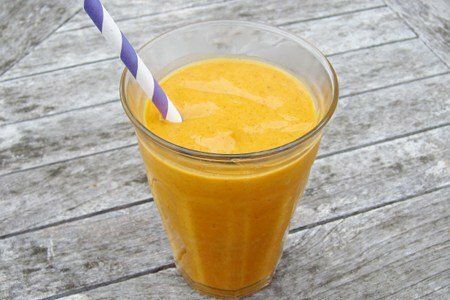 What do I do with the rest of the pumpkin in the can? I HATE recipes that have you use ½ can of something and then you don't know what to do with the leftovers. Yet I did this to myself and all of you. sheesh.
In the post, I asked what to do with the rest of it and I got many great answers. Readers suggested adding pumpkin to pancakes, muffins, soup, oatmeal, chili, and feeding it to a dog. Who knew pumpkin was so versatile?
All I could think of was a mini-pumpkin pie because I LOVE pumpkin pie. If you don't know what goes into pumpkin pie, perhaps I shouldn't tell you. You take perfectly healthy cooked pumpkin and add cream, sugar, and eggs. Then, you pour it into a crust with 8 tablespoons of butter (minimum).
Ahhh, pumpkin pie. Drool.
Back to the point! I decided to make a "Pumpkin Pie Smoothie" because I couldn't get pumpkin pie out of my head.
I used yogurt and banana to give the pumpkin a depth of flavor and I turned out a smoothie with 383% of your daily value of vitamin A, 12% of your daily value of iron, and 16% of your daily value of calcium in just one serving.
This is no pumpkin pie, people, this is a SUPER drink.
The sugar in the drink is from the pumpkin, yogurt, and banana. There might not be enough of it to get that "treat" kick you are looking for. I did add some maple syrup and still felt virtuous.
I can't wait to try all the other great pumpkin ideas. Maybe I should start "Pumpkin Mondays for when your head feels like a pumpkin". Sound fun?
Have you tried to make a pumpkin smoothie? What did you use?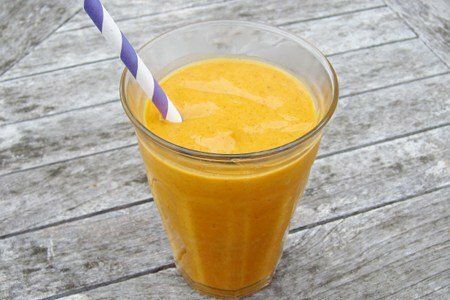 Pumpkin Pie Smoothie Recipe

(makes 2 servings or 3 cups)

Ingredients
1 cup canned pumpkin
½ cup plain yogurt
1 ½ teaspoons pumpkin pie spice
1 banana
maple syrup, honey, or agave nectar (to taste)
lots of ice cubes

Instructions
Put all ingredients into a blender and blend until smooth. Serve and enjoy! Pour leftovers into drink container for later consumption.
Nutrition Facts
For one serving with lowfat yogurt and no syrup added = 142 calories, 1.4 g fat, 28.6 g carbohydrates, 15.7 g sugar, 5.5 g protein, 5.3 g fiber, 50 mg sodium, 4 Points+
Points values are calculated by Snack Girl and are provided for information only. See all Snack Girl Recipes
Other posts you might like:
---

Snack Girl has had MANY readers tell her to try "green" smoothies. Well, before last Tuesday, I had one word for them - YUCK!...
---

If you're looking for a snack that tastes delicious AND is good for you, then you're in for a treat!
---
---
Get Free Email Updates! Yes please!
---