Guilt Free Noodles And Rice: How Miraculous Are They?
Snack Girl is delving into the world of the zero calorie noodle. You heard me, ZERO calories.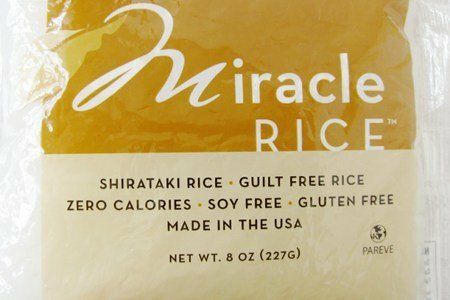 A loyal reader, Amy, asked me this question:
I just discovered something called Shirataki Noodles that are extremely low calorie, gluten free noodles. Have you heard of these and what is your take on them? Are they a healthy substitute? I'd love to hear your thoughts before trying them myself.
Yes, make ME the guinea pig :)
The famous shirataki pasta noodles AKA Miracle Noodle are made of a soluble fiber called "glucomannan". In seven ounces of noodles, you will find ZERO calories.
The noodles are edible but they have been processed from a Japanese yam to be INDIGESTABLE so your body extracts no nutrition from them.
Sounds delicious doesn't it?
My first problem with these noodles is the price. For 7 ounces of noodles you pay $2.50 for a bag which is one serving. My entire pound of whole wheat pasta which has calories and nutrition is around $2.
Then, there is the preparation which (unfortunately) reminded me of my days working in a science lab. You open the bag and it smells like rotting fish. You rinse the noodles, blanch them in boiling water, and then let them dry on paper towels. Hey, this is a bit nauseating and time consuming!
There seemed to be a test at this point that I failed because I had to get them off the paper towels and into marinara sauce without spreading them all over my kitchen counter. Argh.
How did they taste? They don't taste like anything which is what you would expect. They do remind one of pasta, but not enough to convince you that you are eating real pasta.
They are far too gelatinous for me. The Miracle Rice is like eating little squid eyeballs (not that I've ever eaten squid eyeballs).
Now, I know that these noodles have saved people's diets because they convince you that you are eating zero calorie carbs. I'm just not sure they are worth it but I don't think they are unhealthy.
My suggestion is to try cauliflower rice which is easier to prepare, has nutritional value, and costs less per ounce.
If you really love noodles, try eating whole wheat pasta in small quantities. At least you get some protein and fiber with your carbs.
Have any of you tried Miracle noodles? What did you think? Please share.
---
$26.95 ($0.64 / Ounce) Buy on Amazon.com
As an Amazon Associate, I earn from qualifying purchases.
---
Other posts you might like:
---

---

This low calorie rice is a win-win substitute for real rice......
---