A Lot Less Float For Your Boat (Awesome 53 Calorie Dessert)
Snack Girl wants to share about serving sizes of ice cream. Ummm, what happened?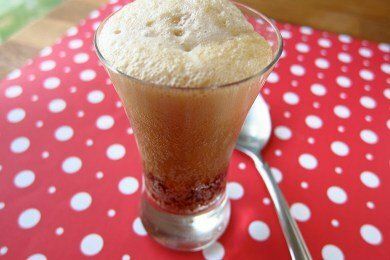 Am I getting old or are the scoops of ice cream getting massive? (Don't answer the getting old part.)
At the ice cream stand, I order a Kiddie cone and I can't finish it - and the scoops are as big as my child's head! Okay, enough kvetching.
What to do?
You are going to save money if you avoid the ice cream stand and buy your own ice cream. I suggest buying pints of the good stuff (not half gallons) so you are not tempted to visit the freezer at 1 AM.
Then, get some cute shot glasses (photo above) or Japanese tea cups to replace a LARGE bowl that is going to make this serving size of ice cream seem small.
We have some beautiful little cups and they are PERFECT for feeling spoiled and for serving small amounts of rich foods.
Finally, make a mini root beer float and be amazed at how a small dessert can satisfy your sweet tooth. I bought just one 12 ounce bottle of root beer at the store and served 4 people floats with (get this) one tablespoon each of vanilla ice cream.
I either look super cheap or super brilliant (probably super cheap).
The ice cream foams when it hits the soda and provides this creamy, bubbly, and sweet yumminess.
For your Weight Watchers fans, this dessert is only ONE point. How great is that?
How do you keep your serving sizes under control?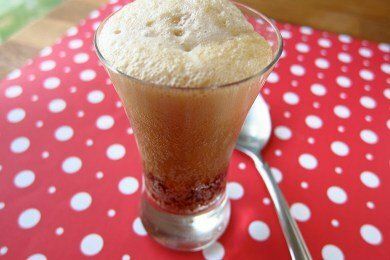 Mini Root Beer Float Recipe
(makes 4 floats)
1 12 ounce bottle or can of root beer
1 pint vanilla ice cream

Pour 3 ounces of cold root beer into 4 small cups. Add one tablespoon of vanilla ice cream and serve immediately! Watch the smiles happen.
One serving = 53 calories, 1.0 g fat, 11 g carbohydrates, 0.3 g protein, 0 g fiber, 18 mg sodium, 1 Points+
Points values are calculated by Snack Girl and are provided for information only. See all Snack Girl Recipes
Want to read about snacks?
Agave Nectar: of Gods or of Hype?
Starbucks Bistro Box: A Grab and Go Under 500 Calorie Lunch
Chill Out With Some Watermelon Tomato Soup
Fall In Love With A New Whole Grain
---
Get Free Email Updates! Yes please!
---