Organic Tamari Roasted Almonds
When I saw these, I just HAD to try them. Could these be the perfect snack?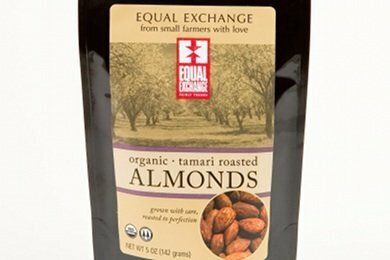 Perfection is relative, but I think these are pretty close. This is one of those foods where you can know your farmer, and I find that exciting.
The company that produces these almonds is Equal Exchange has been around for 20 years.
From their website:
It all started with an idea: what if food could be traded in a way that is honest and fair, a way that empowers both farmers and consumers? What if trade supported family farms that use organic methods, rather than industrialized agribusinesses that rely on harmful chemicals?
Yea! If you think back 20 years ago, were we even talking about organic? Seems like Equal Exchange is in a "sweet spot" right now having been ahead of the curve.
The farmers who grew these almonds are in the Big Tree Organic Farm Co-op and you can support them by buying this product. They are located in California and they use combinations of vinegar, vegetable oils, and lemongrass as herbicide.
Do you hear that? Monsanto, I am talking to you - no Roundup used at these farms.
When you buy a bag of almonds, you are voting with you dollars for the kind of food that you want to eat. I wish I had the money to always support small organic farmers, but I can support this group by telling YOU about them.
The almonds are delicious and a fantastic snack when you need something quick. They aren't too salty and they have a CRUNCH that is very satisfying.
Comment below on your thoughts on organic farming to enter to win a bag of Organic Tamari Roasted Almonds and Organic Chai tea from Equal Exchange.
Equal Exchange products are available in cafes, co-ops, supermarkets, and natural food stores throughout the United States. If you can't find any near you check out their Retail Web Store.
This product was received for review consideration. No other compensation was provided.
---
What will I win?
A 5 ounce bag of Organic Tamari Roasted Almonds and 1 package of Organic Chai Tea.
How do I enter?
Comment below on your thoughts on organic farming.
Additional Ways To Enter:

Follow Snack-Girl on FaceBook. Comment on the FB page on organic farming.

Follow Snack-Girl on Twitter and Tweet this post (use the Tweet Button in the Share Box at the top of this post).

Snack-Girl can follow and count all the additional entries using magical website tools.
Am I eligible to enter?
This giveaway is offered to US residents only.
When do I find out if I am the winner?
The winner will be announced on April 15th, 2011. You will have 2 weeks to e-mail us back with your home address so we can mail the prize.
Want to read about snacks?
Sugar Free Gum Without Artificial Sweeteners or Colors? It Exists!
Who Else Wants Bacon?
The Secret Of Building A Healthy Body (For People With Little Time or Money)
Now You Can Eat A Banana Split Without Splitting Your Pants