Wake Up To These Pumpkin Pancakes
In case you hadn't noticed Snack Girl takes requests. Freebird!!! (cue lighter)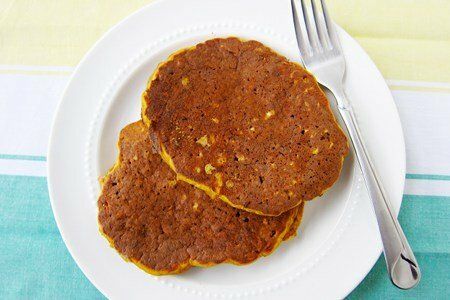 Not that kind of request! Anyway, I am continuing "Pumpkin Mondays" with an alteration of my favorite overnight pancake recipe. One of you requested that I try it and I am pretty happy with the results.
In my usual Overnight Pancake Recipe, I use yogurt to give a nice flavor. I replaced the yogurt with pureed pumpkin from a can and used a little more sugar to make it sweeter.
The result is a bright orange pancake with 66% of your daily value of Vitamin A and 7% of your daily value of iron. It does taste a bit like pumpkin pie!
I should warn you that when I took this out of the fridge it was GREEN. Yikes! The very top of the batter looked like something out of a horror movie. Oh no.... but, then I stirred it and it went away. I am thinking the top layer oxidized a bit and it didn't affect the color or flavor in the end.
It is truly lovely to have pancake batter waiting for you in the morning. I find that I hop out of bed faster when I know that I am going to make a hot breakfast and all I have to do is heat the pan.
The house smells great and (sometimes) I don't have to wake my kids. They just wander out wondering what is cooking.
After all these weeks of pumpkin, you must have tried some by now. Have you tried to make any pumpkin recipes? How is it going?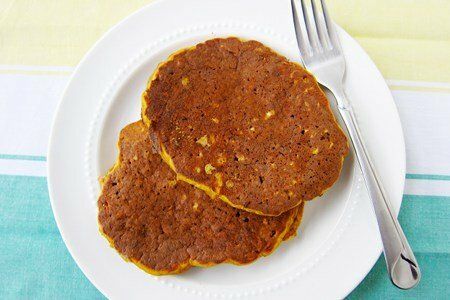 Overnight Pumpkin Pancake Recipe

(make 9 pancakes)

Ingredients
3/4 cup whole grain flour (wheat, oat, etc.)
3/4 cup rolled oats (not instant)
1 tsp baking soda
1 tsp pumpkin pie spice
2 Tbs sugar
1 cup milk
3/4 cup canned pureed pumpkin
2 eggs

Instructions
Mix ingredients together in a large bowl. Place in refrigerator overnight. In the morning, pour batter (about ¼ cup for each pancake) in a heated non-stick pan until bubbles begin showing on the surface. Turn pancake over with spatula - wait 2 minutes and serve.
Nutrition Facts
For one pancake using lowfat milk: 110 calories, 2.1 g fat, 18.5 g carbohydrates, 5.0 g sugar, 4.3 g protein, 1.6 g fiber, 166 mg sodium, 3 Points+
Points values are calculated by Snack Girl and are provided for information only. See all Snack Girl Recipes
Other posts you might like:
---

Cereal is the most amazingly simple breakfast to serve. All you do is pour from a box....
---

Snack Girl has a confession to make. She has snuck in lots of breakfast ideas on her "snack" website....
---
---
Get Free Email Updates! Yes please!
---