Want A Snack That Tastes Like Pie Without Much Cooking or Calories? Try This!
What is it about pears that make them look so golden? And everyone makes fun of "pear-shaped" but I think there is nothing funny about pear shapes.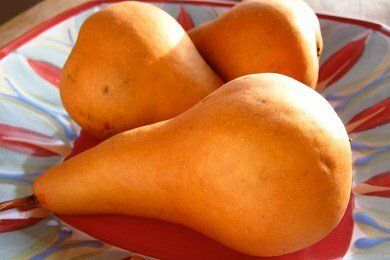 Hey, not everyone can look like a carrot!
Pear season is actually about the same as apple season. Who knew? So, now is a great time to get your hands on some fresh ones.
Do you know how to tell if a pear is ripe? I was well into my 30's before I found out that pears ripen from the inside out. So, you test a pear's ripeness by pressing down near the stem to see if it is soft.
I chose these Bosc pears above because they are ideal for baking. And, because I am impatient. Most pears will ripen after a few days on your kitchen counter - but who can wait that long?
My children area always grabbing at the unripe fruit and trying to eat it - which drives me crazy because they can ruin a piece of fruit with those bite marks. And, fresh fruit is not cheap!
With an unripe Bosc pear, you can make a simple treat with barely any preparation. Just slice them up, put them on a roasting pan, and check them every 20 minutes or so until they are soft.
What you have done is concentrated the sugars and the PEAR flavor - and you removed most of the grainy texture that some people don't like about pears. Now, they are bite sized, soft, and you can refrigerate them for anytime snacking.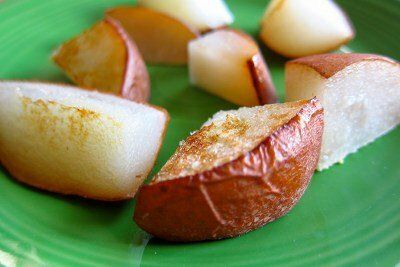 They really do taste like pie - and you can add some cinnamon, nutmeg, pumpkin pie spice or allspice to liven them up. But, I don't think these pears need anything to be delicious.
Have you tried to roast pears? How do you like to serve them?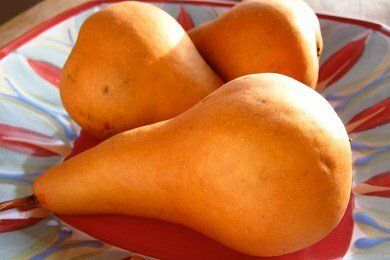 Golden Pear Bite Recipe

(makes 3 servings)

Ingredients
3 Bosc Pears (unripe)
non-stick spray
cinnamon, nutmeg (optional)

Instructions
Heat oven to 400 F. Slice pears into chunks and place on rimmed baking sheet. Dust with cinnamon or nutmeg (optional). Cook for 20 minutes and check if softened to your liking. The roasting may take 40 minutes depending on the ripeness of the pears.
Serve warm, cold, or room temperature. These will keep in your fridge for a week.
Nutrition Facts
For one serving: 100 calories, 0 g fat, 25 g carbohydrates, 1 g protein, 4 g fiber, 0 mg sodium, 0 Points+
Points values are calculated by Snack Girl and are provided for information only. See all Snack Girl Recipes
Want to read about snacks?
The Three Step Process That Will Solve Your Cereal Dilemma
How To Jump Start A Healthy Eating Program
For The Love Of Apples
Support Healthy Snacking With A Snack Station
---
Get Free Email Updates! Yes please!
---