A Healthy Snack for a Busy World
Do you have time to sit and peel a fresh mango every time you want a snack? No? Well, I'm sure you are in the majority. Lucky for you, Peeled Snacks will come to your rescue.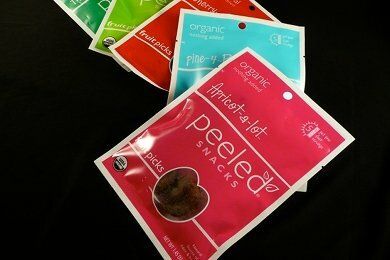 Peeled Snacks are packaged dried fruits and nuts. The packages are in beautiful colors and are filled with about 120 calories of snacks. Unless you purchased the ones with nuts, in which case, you are looking at 300 calories per package (nuts are high calorie - but incredibly nutritious - see Almonds).
The idea is that instead of buying a Snickers at your local new stand, you grab one of these. They will set you back about $2.50 per bag depending on where you purchase them, but you will get something incredibly nutritious, with no added sugar, etc., and they taste great!
The quality of the fruit and nuts in the packages I received was excellent. They were just plain delicious. This is a great treat to have around to add to a lunch box.
And there are a bunch of choices, mango, dried cherries, fruit and nuts, etc. Check out their website to see more and to purchase the snacks:
If you don't have $2.50 when you need a snack, consider buying your favorite dried fruit and putting it little baggies. This way, you are ready when you are looking for a nutritious snack.
What is your favorite "on the go" snack?
This product was received for review consideration. No other compensation was provided.
Want more like this?
How to Make an Apple Last 2 Years
Fruit shaped gummy bears
Tropical fruit for North Americans