Embrace Fall With This Pumpkin Themed Skinny Drink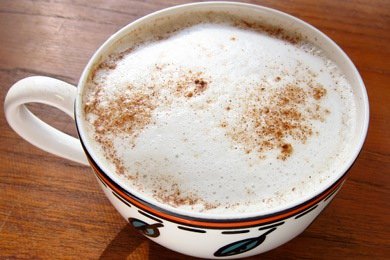 Some people think fall has arrived when the leaves start changing and apples become abundant. Others know it is here with the arrival of the pumpkin spice latte from Starbucks.
But Starbucks no longer has a monopoly on announcing fall. My local Hess convenience store and 7-Eleven both have a pumpkin spiced drink. Yes, it is EVERYWHERE.
Remember - A Starbucks Venti Pumpkin Spice Latte (20 ounces) will set you back 510 Calories! (whole milk and whipped cream included)
ummm, ouch. There is 60% of your daily value of saturated fat in this single drink.
Frankly, I don't like the Pumpkin Spice Latte because I find it too sweet. I do adore pumpkin spice so I thought I would attempt my own version. It turns out that ANYONE can make their own pumpkin spice latte.
Why would you want to make your own? You will save:
Calories - mine is 130 calories less than Starbucks' lite version
Money - saved about $2.50
The Environment - no paper cup and lid to toss away
You don't need an espresso maker with a milk frother to make this drink. You can buy a milk frother that runs on batteries from Ikea for just $2 or you can order it from Amazon for $6. I have one (first saw it in Europe) and it works great!
Buy some pumpkin spice from the baking section of your supermarket, skim milk, sugar, and you are ready to go. Try adding just one teaspoon of sugar and see if you like it. You don't need a lot of sugar to make this taste delicious.
You have some choices on how you can make this. For example, you can add some pumpkin spice to your ground coffee BEFORE you brew it. This will infuse your coffee with the pumpkin spice flavor.
If you want to use maple syrup, agave syrup, or another sweetener please feel free. And, of course, there is always a choice of milks - almond, soy, flavored soy, etc.
How do you deal with the Pumpkin Spice Latte season?
print
Pin It
Pumpkin Spice Latte Recipe
4 ounces coffee or espresso
1/2 cup skim or nonfat milk
2 teaspoons sugar
1/4 teaspoon pumpkin pie spice (plus extra to dust on top)

Brew coffee and heat milk until hot in microwave. Foam milk with Aerolatte or other milk frother. Mix sugar and pumpkin pie spice in coffee and pour milk on top. Enjoy!
one serving = 78 calories, 0.3 g fat, 14.6 g carbohydrates, 4.6 g protein, 0 g fiber, 66 mg sodium, 2 Points+
Points values are calculated by Snack Girl and are provided for information only. See all Snack Girl Recipes
Want to read about snacks?
A Delicious Almost Zero Calorie Snack (Really!)
A Surprise Ingredient In Stonyfield Yogurt
Guess Where I Found This Healthy Food?
Dress Up Your Apple Slices With Cookie Dough Dip
---
Get Free Email Updates! Yes please!
---