Dress Your Oatmeal Up For Halloween
Are you going to go out and buy a costume for Halloween? How about your oatmeal? Is it going to have a costume?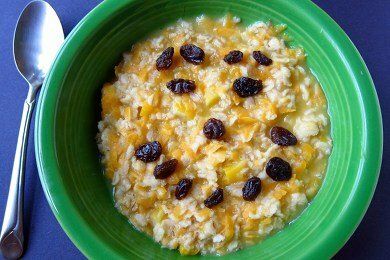 Dressing up your oatmeal is going to be much easier than trying to get your two year old to wear that witches hat. All you gotta do is add some ORANGE (not food coloring) and you have Halloween oatmeal.
I added both grated sweet potato and apricots to get that orange color. And do you know what else you get? You have just added a ROCKSTAR of nutrition to your oatmeal. The Center For Science in the Public Interest named sweet potatoes one of the best vegetables you can eat!
Sweet potatoes are loaded with carotenoids, vitamin C, potassium, and fiber. Yes, you just took your hot whole grain breakfast and turned it into the breakfast of champions. I'm not sure which champions I mean exactly - just choose your own champion.
(mine would be the first human being who figured out how to open an oyster)
I used to HATE oatmeal because I had only tried instant. Now, I really like it - and I keep thinking of ways to make it better.
Here are some other Snack Girl oatmeal suggestions:
1.

Make Winter Warmer With Apple and Peanut Butter Oatmeal
2.

Better and Faster than A Bowl of Cold Cereal
3.

Healthy Baked Oatmeal **VIDEO**
What do you add to your oatmeal?
This recipe will be gluten free if you can find gluten free oats.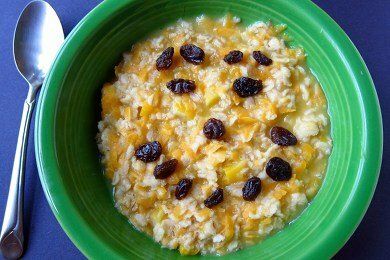 Halloween Oatmeal Recipe

(4 servings)

Ingredients
2 cups old-fashioned rolled oats
1 medium sweet potato, peeled and grated
10 dried apricots, chopped
1 teaspoon vanilla
pinch salt

Instructions
Bring 5 1/2 cups water to a boil and add oats, sweet potato, and apricots. Reduce the heat to very low, cover, and simmer, stirring occasionally. When sweet potato and oats are cooked (about 15 minutes), add salt and vanilla.
Serve with raisins, milk, maple syrup, honey, etc. This recipe will keep in the fridge for one week.
Nutrition Facts
For one serving = 218 calories, 3.4 g fat, 42.6 g carbohydrates, 6.8 g protein, 6.7 g fiber, 11 mg sodium, 6 Points+
Points values are calculated by Snack Girl and are provided for information only. See all Snack Girl Recipes
Want to read about snacks?
Fab Snack Finds For Keeping It Fun
Sneaky Canned Soup: Tips To Keep It Healthy
25 ideas for Healthy After-School Snacks
The Secret To Making Chicken Breast Taste Much Better Than A Hockey Puck
---
Get Free Email Updates! Yes please!
---