How to stop using plastic baggies
June 23, 2009
What is the best way to tote your favorite snack around? Clearly, the best way to snack is to pack a snack to take with you. It seems that everywhere you look you see a discarded Cheetos wrapper. Most of us who plan our snacks use a form of Ziploc bag.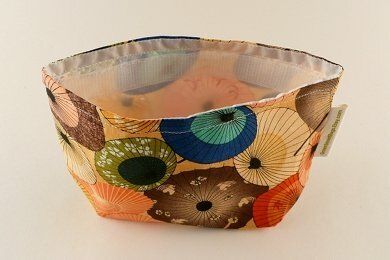 Is there an alternative? Yes! There is at Green Street, an Etsy website, found here:
http://www.etsy.com/shop.php?user_id=7183395
All of Green Street's Snack Sacks are made with 100% designer cotton fabric and lined with water resistant Nylon. So, you can put your favorite snack in them and then toss them in the washing machine.
They are hand sewn and use Velcro for the closure. They even stay standing up on their own. They cost $6.50 plus shipping. But, over time, they will pay for themselves because you can stop buying plastic baggies.
And, when you buy them, you support a Kentuckian named Amanda. Amanda is a stay at home mom with two children. She began making these little snack and sandwich bags for her children and they loved them.
Everything was much more fun to eat once she put it in a Snack Sack. You can even chose your own fabric!
Buy one, or a few, support the environment, a homegrown business, and a mother. And save money! How can you go wrong?
Want suggestions for what to put in your bag?
Low calorie crunch to stop your chip craving
All the benefits of red wine without the alcohol
Nuts are nutritious and portable
Snap along to a healthy place