Try Rhubarb - In Season Now and Super Yummy
The best place to find healthy eating inspiration is your local produce source. And if you pay attention, you will see that there are vegetables and fruits that arrive at different times of year.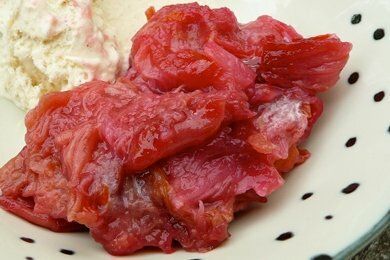 For example, a pound of strawberries cost me $1.60 yesterday at my local supermarket. (No, they were not organic.) Even more rare than strawberries is rhubarb, which is waiting for you RIGHT NOW.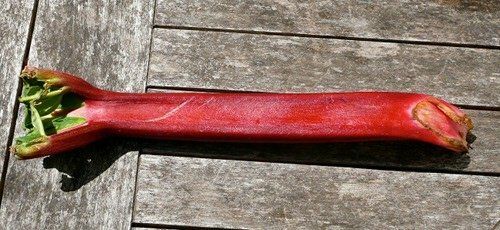 This vegetable is super yummy (yes, it is a vegetable). Picture it as a sour and red celery stalk. An entire pound of rhubarb has a whopping 95 calories. Isn't that amazing? Unfortunately, to make it palatable, you need to add sugar.
The best way to eat it is as a "jam" like substance. With this jam, you can add it to ice cream, yogurt, spread it on toast, or just eat it straight. The taste is very strong so that might be challenging.
The recipe below uses the oven to make rhubarb compote. It is easier to use the oven because you don't have to watch over it. My favorite way to cook is to chop and toss things in the oven and come back when they are done.
Have you ever used orange or lemon zest? The "zest" is the colorful part of the peel, which has a strong flavor and lacks the bitterness of the white part (the pith).
I have included a link to a "zester" so that you can see what one looks like. I don't own one. I use a vegetable peeler to take a layer of peel off and then a mince up the zest. The orange zest makes a great flavoring agent for the rhubarb.
Finally, I have included a link to a juicer. It makes adding lemon or orange juice SO easy to different recipes. My favorite way to use it is to add juice to my salad dressings. The more flavorful the salad, the more likely I am to eat it.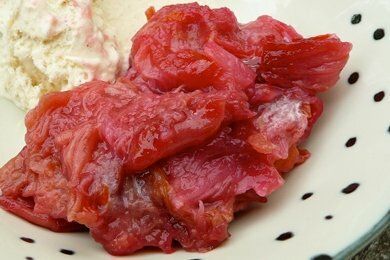 Rhubarb Compote Recipe
Makes 2 cups
Ingredients
1 pound rhubarb
1 medium orange
1/2 cup sugar
Instructions
Preheat oven to 350 F. Rinse rhubarb, trim ends and remove any leaves. Slice each stalk in half lengthwise, then cute each half crosswise into 1-inch pieces. Place rhubarb into a bowl. Peel one tablespoon orange zest off of orange, mince, and add to bowl. Juice 1/2 orange and add to bowl (save the other half for something else or eat it now). Add sugar to bowl, mix, and add mixture to 8-by-8 inch glass baking dish (or something similar). Cover the dish with foil and bake for 35 minutes. Remove foil and bake for another 20 minutes so the juices thicken. Remove from oven and cool before serving. This can be served cold, room temperature, or slightly warm.
Nutrition Facts
1/4 cup is 75 calories, 0.1 g fat, 17 g carbohydrates, 15 g sugar, 0.7 g protein, 1.5 g fiber, 5 mg sodium, 4 SmartPts
Points values are calculated by Snack Girl and are provided for information only. See all Snack Girl Recipes
$20.12 Buy on Amazon.com
As an Amazon Associate, I earn from qualifying purchases.
---
How do you cook rhubarb?
Want to read about snacks?
Turn Cauliflower into YUMMYflower
Cheerios: A Good Choice For a Healthy Snack?
A Drink for Super Heroes
One Sweet Reason To Avoid Artificial Sweeteners
---
Get Free Email Updates! Yes please!
---