Rocco DiSpirito's "Now Eat This! Diet"
Snack Girl likes it when celebrity chefs decide to design recipes for those of us trying to be healthier and lose weight.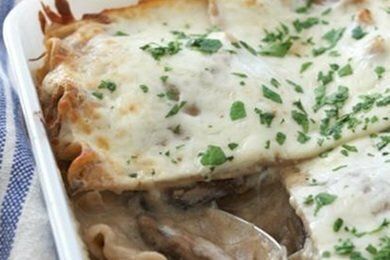 Paula Deen, you could take a page from Rocco DiSpirito's latest effort, "Now Eat This! Diet' with his almost 300 pages of beautiful pictures, recipes, and thoughts on how to get healthier.
(Not that I don't love Paula - but I am POSITIVE that "deep fried macaroni and cheese" is going to shorten my life.)
Rocco DiSpirito has been on The Biggest Loser, Dancing With The Stars, and now Snack Girl (I am sure his crowning achievement). The man can't dance, but he can cook and he lost over 20 pounds.
How did he do it? He came up with a bunch of recipes that replaced his favorites with lower calorie versions. This mushroom lasagna recipe doesn't have meat and I know it is delicious.
He was able to shave over 400 calories from one serving! (Lasagna can be a calorie bomb.)
There are a whole bunch of favorites here - mac and cheese, brownies, and a even a cheeseburger. Rocco even uses black beans in his brownie recipe - just like Snack Girl (see here: Healthier Brownies With A Secret Ingredient).
His brownie recipe doesn't use a mix because he is a chef (and he isn't lazy).
Here's how you can win your own signed copy of Now Eat This! Diet, signed by Rocco DiSpirito himself:
Comment on this post and share the following with us "What is your motivation to lose weight?".
For example, some choose to lose the weight to be better parents, what's your reason?
At the end of the contest, I'll pick 4 winners (at random) to receive the book and announce them on April 6th, 2011.
---
No Boil Mushroom Lasagna Recipe
reprinted with permission from "Now Eat This! Diet" by Rocco DiSpirito
YEARS AGO, after she came to Hollywood and became an international film star, Sophia Loren gave the media her most sultry pose one day and reportedly said, "All you see, I owe to pasta." Americans now know what Italians and others have known for centuries: Pasta is cheap, chic, and healthy. I don't like diets that give you scheduled feedings of birdseed, so, my friends, thank you for coming back to the pasta fold. This recipe uses no- boil noodles. Mushrooms and no-boil lasagna noodles were made for each other. Because mushrooms release a lot of water during cooking, they essentially steam the noodles, thereby cooking them.
(makes 4 servings)
INGREDIENTS
Nonstick cooking spray
2 cups reduced-fat ricotta cheese, such as Sargento
½ cup chopped fresh basil
2 tablespoons chopped fresh fl at-leaf parsley
1 cup grated Parmigiano-Reggiano
Salt
Freshly ground black pepper
4 ounces (about 8 sheets) no-boil whole wheat lasagna noodles, such as Dalallo 10 ounces sliced cremini mushrooms
4 ounces white button mushrooms
½ cup shredded reduced-fat mozzarella cheese
METHOD
1. Preheat the oven to 350°F. Coat the inside of an 8 x 8 x 2-inch baking pan with cooking spray and set aside.
2. In a medium bowl, add the ricotta, basil, parsley, and ¾ cup Parmigiano-Reggiano. Mix with a spoon until blended. Season with salt and pepper to taste. Set aside.
3. Line the bottom of the prepared baking pan with two lasagna sheets. Top with ½ cup of the cheese mixture. Using the back of a spoon, spread the mixture so that the noodles are covered. Top with a layer of mushrooms. Repeat the procedure two more times. On the last layer, place two lasagna sheets on top of the mushrooms. Spread a layer of the remaining cheese mixture on top. Scatter the mozzarella and remaining Parmigiano-Reggiano on top.
4. Cover tightly with foil and bake in the oven for 30 minutes.
5. Raise the temperature of the oven to 425°F, and bake for another 15 minutes. Uncover the dish and continue to bake for another 15 minutes or until the top is golden brown.
Per serving: 388 calories, 15 g fat, 34 g carbohydrates, 28 g protein, 3 g fiber, 510 mg sodium, 10 Points+
---
$24.99 $11.81 Buy on Amazon.com
As an Amazon Associate, I earn from qualifying purchases.
---
What will I win?
A signed copy of "Now Eat This! Diet", signed by Rocco DiSpirito himself.
How do I enter?
Comment below on your motivation to lose weight.
Additional Ways To Enter:

Follow Snack-Girl on FaceBook. Comment on the FB page on your motivation to lose weight.

Follow Snack-Girl on Twitter and Tweet this post (use the Tweet Button in the Share Box at the top of this post).

Snack-Girl can follow and count all the additional entries using magical website tools.
Am I eligible to enter?
This giveaway is offered to US residents only.
When do I find out if I am the winner?
The winner will be announced on April 6th, 2011. You will have 2 weeks to e-mail us back with your home address so we can mail the prize.
Want to read about snacks?
Try This Healthy Pie.....Naked
Three Reasons To Avoid Yoplait Greek Yogurt
Can Domino's Deliver A Healthy and Tasty Meal?
Green Thing...You Make My Heart Sing