A Magical and Healthy Packaged Snack
Snack Girl has a confession to make. She has begun to receive MANY snack samples in the mail.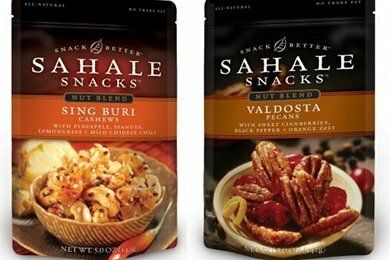 My new notoriety can be a good thing. First of all, I have made a new friend - the UPS guy. He chuckles whenever a new box of food arrives.
Also, when I get a lot of something and can't (or don't want to) finish it, my local food pantry gets a gift of unopened snacks.
But, the best part of receiving all these samples is that I find some new yummy stuff!
These Sahale Snacks really surprised me and caught my attention. Their "Soledad Almonds" include apple, flax seeds, date, balsamic vinegar, and red pepper.
Will this combination of tastes work?
How about their "Valdosta Pecans" with sweet cranberries, black pepper, and orange zest?
I gotta tell you. I was fearful when I opened the package, but they were both delicious. Like, "I'm going to buy them for myself delicious"!
The Valdosta Pecans in a 2 ounce package contained:
130 calories, 11 g fat, 9 g carbohydrates, 1 g protein, 2 g fiber, 50 mg sodium, Points+ 4
and all the ingredients were simple and recognizable. The 2 ounce size is absolutely perfect because it is the right amount for a quick snack between lunch and dinner.
These are a great option for putting in your purse, backpack, or briefcase when you are running around town. They aren't cheap ($2 per package) but they are delicious.
You can buy them at Starbucks, on Amazon (below) or find them at a store near you using their Sahale Store Locator. Find them on Facebook at Sahale Snacks.
Sahale Snacks is giving away a $20 package of snacks to a Snack Girl reader.
Comment below on your favorite spice and nut combination to enter.
This product was received for review consideration. No other compensation was provided.
---
What will I win?
A box of Sahale Snacks (5 ounce size) including Sing Buri Nut Blend, Valdosta Nut Blend, Glazed Cashews, Glazed Almonds ($20 value).
How do I enter?
Comment below on your favorite spice and nut combination.
Additional Ways To Enter:

Follow Snack-Girl on FaceBook.

Comment below on your favorite spice and nut combination.

Follow Snack-Girl on Twitter

Tweet this post (use the Tweet Button in the Share Box at the top of this post).

Snack-Girl can follow and count all the additional entries using magical website tools.
Am I eligible to enter?
This giveaway is offered to US residents only.
When do I find out if I am the winner?
The two winners will be announced on January 28th, 2011. You will have 2 weeks to e-mail us back with your home address so we can mail the prize.
---
currently unavailable Buy on Amazon.com
As an Amazon Associate, I earn from qualifying purchases.
---
Want to read about snacks?
Need Some Intense Dark Twilight Delight?
What To Do With Lots of Celery?
Transform Broccoli Into a Food the ENTIRE Family Will Eat
Gluten-Free Healthy Snacks