How Do You Know Spring is Here? Asparagus!
Every year, I go to my Stop & Shop see the sale on asparagus and know it is time for the snow to start melting.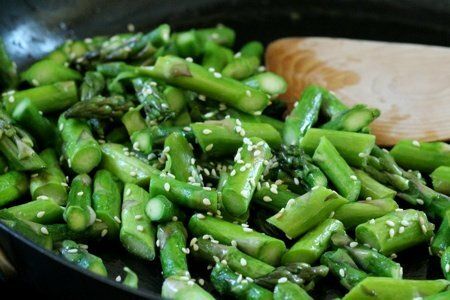 Then, I toss a couple pounds in my cart and have an asparagus FEAST. Ask my family, they get sick of my asparagus addiction after a month of funny smelling pee.
Not only do I buy large quantities of asparagus, but I try out new recipes here on the site to get my dear readers to try it. This year's recipe is simple, tasty, and fast. You can't go wrong stir-frying your asparagus to tenderness.
You can find both sesame oil and sesame seeds in the "Asian" section of your supermarket. I found "Toasted Sesame Seeds" in the spice section.
If you have untoasted sesame seeds, it is simple to toast them. Heat a dry skillet over medium heat, add the sesame seeds, and stir until they turn golden brown. Remove from the heat immediately because they burn easily.
Here are some other terrific asparagus recipes:
Do you get excited about asparagus?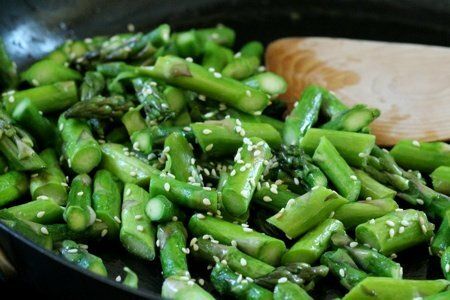 Sesame Asparagus Recipe

Serves 2 (6 ounces per serving- ¾ cup)

Ingredients
1 bunch asparagus (about ¾ pound)
2 teaspoons sesame oil
2 teaspoons roasted sesame seeds
salt to taste

Instructions
Snap off the end of the asparagus spears. Cut into bite-sized pieces. Heat sesame oil in a skillet over medium-high heat. Add asparagus and stir-fry until just tender (about 3 minutes). Add sesame seeds and salt. Serve immediately.
Nutrition Facts
91 calories, 6.2 g fat, 0.9 g saturated fat, 7.3 g carbohydrates, 3.2 g sugar, 4.3 g protein, 4.0 g fiber, 4 mg sodium, 2 Points+
Points values are calculated by Snack Girl and are provided for information only. See all Snack Girl Recipes
Other posts you might like:
---

Have you ever made a traditional Strawberry Shortcake? Well, I have and the "shortcake" part calls for cream AND butter. Wowza!
---

Snack Girl is so proud of herself. She made this beautiful bowl of strawberry frozen yogurt (and then ate it)....
---
---
Get Free Email Updates! Yes please!
---