Skinny Italian Tomato Snack Recipe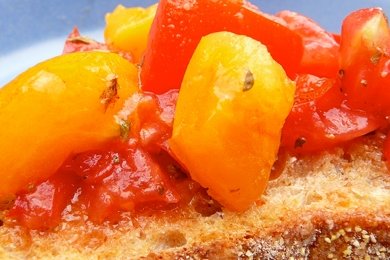 Skinny Italian seems like an oxymoron. Can you eat pasta by the tons and still be skinny?
Well, Teresa Giudice of The Real Housewives of New Jersey thinks she has the answer. Hey, she is skinny and Italian so maybe she has a clue.
I must say that I am a big fan of Italians (love you, Viola) and Italian cuisine. My favorite Italian cookbook is, "Essentials of Classic Italian Cooking" by Marcella Hazan (see below). The recipes in here are simply magnificent and it is a great read if you love just READING cookbooks.
The Real Housewives of New Jersey program was a mystery to me until I received this book for review. I was sick in bed for a day and watched 2 episodes. I am not a fan primarily because it seemed so negative. (Here I go being negative!) The women on the show spend a lot of time being mean to each other.
BUT, this is not a TV program review. "Skinny Italian" has 60 recipes and they seem easy to prepare. Teresa has a philosophy that I agree with. She states:
We've become used to things like Pirate's Booty and pita chips, but imagine if some guy walked out of the jungle who had never eaten anything but plants, animals, and foods made from just that his whole life. Do you think he would touch sugary cereals or diet sodas? You might as well hand him wood chips and battery acid.
Much of the book is filled with her musings on life, family, and even Danielle (her nemesis on the program). But, there are some great healthy recipes here and I think she is right about food.
The tomato bread snack (bruschetta) from the book is simple to make, delicious, and low calorie. The calories will fluctuate by how much bread you use and how thickly you slice it. I ate this recipe for breakfast and really enjoyed it.
She does pasta, pizza, and even gives a course in how to can tomatoes. Cool, no? and she tells you how to dress with flair on a budget (advice I didn't need since I have no flair :)
print
Pin It
Bruschetta Classica Recipe
reprinted with permission from SKINNY ITALIAN by Teresa Giudice. Copyright © 2010. Published by Hyperion. Available wherever books are sold. All Rights Reserved.
(makes 12 servings)
1 loaf wide, crusty Italian bread (not one with too many holes in the crumb), cut diagonally into twelve 1/2-inch slices
3 tablespoons extra virgin olive oil
5 plum tomatoes, cored, seeded, and cut into 1/2 inch dice
1 teaspoon balsamic vinegar
1 teaspoon dried oregano
1 garlic clove, minced
1/2 teaspoon salt
1/4 teaspoon freshly ground black pepper
1. Position a rack in the center of the over and preheat the oven to 450F.
2. Arrange the sliced bread on a large baking sheet. Brush with 2 tablespoons of the oil. Bake until the bread starts to toast, about 5 minutes. Let cool.
3. Mix the tomatoes, remaining 1 tablespoon olive oil, vinegar, oregano, garlic, salt, and pepper in a bowl, taking care not to crush the tomatoes. Let stand at room temperature for about an hour for the flavors to blend.
4. Arrange the bread slices on a platter with the oiled side up. Top each slice with some of the tomato mixture and serve immediately. (If you prefer, serve the tomato mixture in a fancy bowl with a spoon, and allow your guest to top their own slices.)
Points values are calculated by Snack Girl and are provided for information only. See all Snack Girl Recipes
Want to read about snacks?
How Do YOU Control Portion Size?
Reduced Fat Chips Can Be Delicious
A Breakfast Cereal You Can Feel Good About
Wheat Thins Manufacturer (Kraft) Talks To Snack Girl
Make Eating Well Fun and Easy! Subscribe
---