A Breakfast Cereal You Can Feel Good About
Back in March, I wrote Candy or Breakfast? Evaluate Your Cereal and since then I have been on a search for cereals that pass my, "Healthy or Crappy Cereal Test" (patent pending :)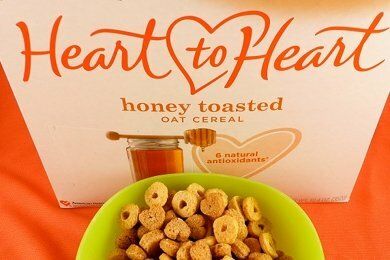 The sad thing isn't that I couldn't find hardly any that I both liked and passed the test! The biggest problem with my test was the second ingredient measure. If the second ingredient was sugar, high fructose corn syrup, molasses, etc., I had decided the cereal failed.
Well, that turned out to be quite a high bar and I think it ruled out some healthy choices. I asked my new pal Cheryl Forberg Interview what she thought. She thinks that if it has 5 grams or less of sugar per serving it is a good choice.
So here is a new version of the test using Kashi's Heart to Heart Cereal:
---
Healthy or Crappy Cereal Test
1. Is the first ingredient whole grain? Yes! The first ingredient is whole oat flour.
2. Is there 5 grams or less of sugar per serving? Yes! There is 5 grams of sugar per serving.
3. One serving must provides at least 4 grams of fiber. You can remember this one with Four Fiber. Yes! It has 5 grams of fiber!
---
Great! Kashi's Heart to Heart passes!
Previously on Snack Girl, I slammed Kashi for Kashi GoLean Review, which has 10 grams of sugar per serving. That stuff really tasted like Captain Crunch.
But, Kashi's Heart to Heart cereal is pretty tasty and has less sodium than Cheerios, but more sugar (aah, trade-offs). My kids don't love it, but I can serve it with some other cereal mixed in (like Rice Krispies) and it becomes more palatable.
Give it a try and let me know what you think!
Do you have any label tests? Please share.
Want to read about snacks?
An Interview With The Biggest Loser Nutritionist: Cheryl Forberg, RD and Giveaway!
Love Bagels and Cream Cheese? Try This Makeover
I Love You More Than Bacon (Maybe)
Want Fewer Dirty Dishes? Try This Healthy Trick