KINDa Fabulous: A Nutritionally Dense Snack Bar
What the world needs is some serious KINDness. Okay, that doesn't seem realistic - but you could pick up KIND at your local convenience store!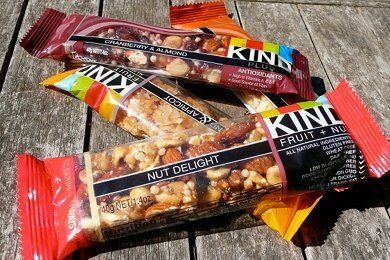 We are looking for a fast way to get our nutrients. And, since, we don't have our own private chefs, we rely on packaged snacks. My old favorites are Lara Bar and Chunks of Energy.
And my new favorite is KIND. Here is a line from their website:
KIND bars are nutritionally dense, with no refined sugar and the right combination of natural protein, carbs and healthy fats so you won't get hungry or snack on junk!
Just like Lara Bar, they are a bunch of good stuff like macadamias, mango pieces, honey, almonds, apricot pieces, etc. mushed together and they taste great! They are using the naturally occurring sugars in the dried fruit and honey to make them sweet and the natural fats in the nuts to make them taste good.
So, basically, you have a packaged mix of fruits and nuts (oh and they add vitamins - which is fine - but I'm not sure it is helpful). They are gluten free, wheat free, dairy free, non-GMO, and free of sulphur dioxide (which can be added to dried fruit). They remind me of Mary's Gone Crackers but they are sweet.
The people at KIND are funding snack research. They are trying to answer a question that has been bugging me. If you eat a healthy snack instead of a junk food snack will you lose weight? The hypothesis would be that your body, since it got some needed nutrients, would want to eat less if it had a healthy snack.
Dr. David L. Katz, Director of Yale's Prevention Research Center, did a study with 94 overweight adults and found that two daily KIND Fruit and Nut bars, were associated with neither weight loss nor gain.
If he had found that the adults had LOST weight, he would have proven that nutrient dense snacks help you lose weight. What he found was that if you add them to your diet, you might not gain weight.
KIND bars are about $1.65 each, so they are not cheap. I found them at my neighborhood convenience store, and on Amazon.
IF you could just eat 1/2 of one, you would have a great replacement for a cookie or Doughnut because you would keep it at 100 calories. Perhaps, you could buy them, cut them in half and then bring them with you.
Hey, KIND, how about a 100 calorie KIND bar? Just make them smaller!
My kids really liked them, and I think they make a great treat for them. Anything packaged is a treat because it costs so much more than an apple.
This product was received for review consideration. No other compensation was provided.
---
$16.99 ($1.42 / Count) Buy on Amazon.com
As an Amazon Associate, I earn from qualifying purchases.
---
What is your favorite snack bar?
Want to read about snacks?
The Healthiest Cracker On The Planet
Cheerios: A Good Choice For a Healthy Snack?
Sneezing Your Way Through Spring? Try This Sweet Cure
This "Juice" Has HFCS and More Sugar Per Serving Than Soda