Starbucks' Oatmeal vs. McDonald's Oatmeal - Which one should you choose?
Last week, I posted What You Need To Know About McDonald's Oatmeal. Immediately, I was asked about Starbucks' oatmeal.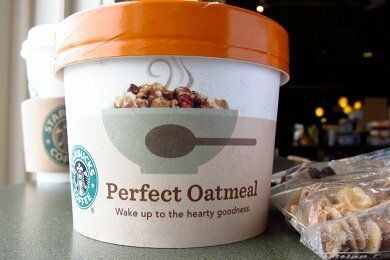 Really? Ummm, I didn't know Starbucks served oatmeal. So, yesterday, I left my snow cave and ventured out to Starbucks and sampled their oatmeal.
Turns out that McDonald's "Undeniably Delicious Oatmeal" was rolled out to compete with Starbucks' "Perfect Oatmeal". Duh!
Before I get in to the oatmeal wars, I want to point out that the best way to get "Undeniably Delicious Perfect Oatmeal" is to make it yourself.
For a mere $1.20, I can buy a POUND of organic whole oats at my Stop-n-Shop in the bulk section. Here are two recipes for oatmeal:
Now, I will get off my high horse and address the fact that many of us simply don't have the time to make breakfast. So, which is better?
I wish I could point out to something that clearly distinguished them from each other - but, clearly, McD's took a page out of the Starbucks playbook and made almost the same oatmeal.
For example here are the ingredients for the base oatmeal:
Starbucks: whole-grain rolled oats (with oat bran), oat flour, calcium carbonate, salt, guar gum, caramel color, reduced iron, vitamin a palmitate, niacinamide, pyridoxine hydrochloride, riboflavin, thiamine mononitrate, folic acid.
McDonald's: Whole grain rolled oats, brown sugar, food starch-modified, salt, natural maple flavor with other natural flavor (plant source), barley malt extract, caramel color.
You can ask McDonald's to give you the sugar free oatmeal and then add your own sugar. The big difference above is that Starbucks adds some vitamins to their oatmeal. For example, you will get 50% of your daily value of Iron from Starbucks' oatmeal vs. McDonald's 10%.
The other ingredients are dried fruit (which both provide). But, McDonald's gives you fresh fruit in the form of a cut up apple and Starbucks gives you 100 calories of mixed nuts. Both are good additions to oatmeal.
The two biggest differences are:
The price. McDonald's - $1.99 vs. Starbucks - $2.99
The calories. McDonald's - 290 vs. Starbucks - 390
BUT, this is assuming you add all the nuts, berries, and sugar to the Starbucks' oatmeal. And, you can add some milk or cream to the Starbucks oatmeal at the coffee bar, which you can't do at McDonald's.
My suggestion is to try both and see which one you like better. I like the McDonald's one better because I liked their maple flavor.
Both oatmeals lacked the real OAT taste that you get from making your own and I found them both to be pretty bland.
Anyone else want to weigh in? I feel like I am "splitting hairs".
Please share your opinion on these oatmeals.
---
Other posts you might like:
---

The relentless search for a decent egg breakfast sandwich continues with an entrant from Starbucks....
---

Snack Girl has a confession to make. She has snuck in lots of breakfast ideas on her "snack" website....
---