Weight Watchers 360°: What's New in 2013
Weight Watchers has launched a new product for 2013. How is it different?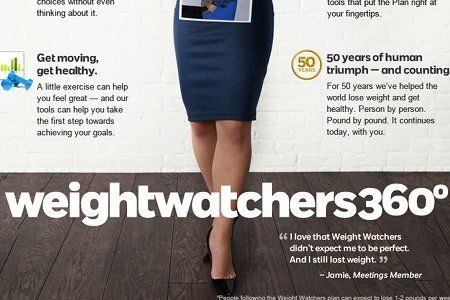 The good news is that you can keep your books, PointsPlus calculators, and favorite recipes from the past PointsPlus program. Weight Watchers has not changed any of their algorithms or adjusted their eating plan so all the PointsPlus program materials will work with Weight Watchers 360°.
What is new is that they are not only trying to offer you advice on your food habits, but tools to keep track of them as well. The 360° concept is that you are going to look at food intake, mindless eating, how you organize your kitchen, celebrations, healthier breakfasts, etc. to aid you in weight loss.
If you have ever been to a Weight Watchers meeting then you know that the leaders are always giving advice on how to tackle your bad habits. Now, Weight Watchers has added some online tools using adult learning principles to help keep you accountable and build NEW healthy habits.
There are 16 different routines that they have constructed to help you get healthier and they are offering advice on how to design your spaces (kitchens, workplaces, cars, etc.). They have also added a section just for men (I guess the program is too female focussed for the guys out there).
For me, habits around eating have been as important as what I eat in aiding in my weight loss. Also, there are a ton of great applications for our cute handheld devices for helping you form new habits. While I still use the old pad and paper because I am old, I am sure WW has come up with some cool apps to support your healthy shifts.
Weight loss really isn't just about the food. Weight Watchers has said that for years and now has created online tools that will help you be accountable. Think of Weight Watchers 360° as an upgrade on their PointsPlus program, not a big change that will make it hard for you to follow something new.
I still love that they emphasize eating fruits and vegetables. You can't go wrong eating healthier food.
The real question is whether Weight Watchers helps people lose weight and keep it off. There is a recent published scientific study done by independent researchers (not funded by WW) that has shown that their new program is effective. Weight Watchers isn't cheap so if you take the dive, be sure to commit so you have a chance of learning from it and losing weight.
Have you tried Weight Watchers 360°? What do you think? How about PointsPlus? Please share.
---
---
Other posts you might like:
---

Is your financial belt tightening as your actual belt is tightening? Unfortunately, Weight Watchers isn't free.
---

It has been over a year and a half since WeightWatchers unveiled its new PointsPlus system. I have heard a lot of grumbling...
---