Winner! and Eat More Kale Giveaway
Winner! and Eat More Kale Giveaway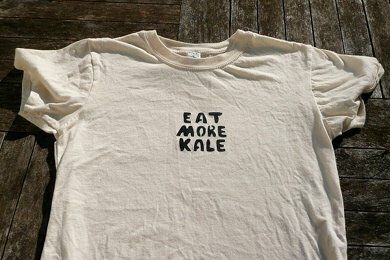 The WINNER of the Its A Ten's snack bag is Melonie (via random selection). I asked people to share their New Year's resolutions - and here is Melonie's:
My new years' resolution is to get away from eating boxed Annie's Mac & Cheese every other day for lunch ;) and these might just help me do it! And to learn to paint watercolors!
Great resolution, Melonie! I hope this bag will help you on your healthy eating journey.
Every year, my New Year's resolution is to learn to play the piano. I figure when my kids get older I will have more time.
New T-Shirt Giveaway
Snack-Girl's giveaway this week is from: Eat More Kale
What else can I say? As we enter the New Year, I'm sure some of us out there need to eat more kale. I featured Kale Chips - and I think they are a great way to make kale delicious.
But, Snack-Girl is just ONE of the advocates for kale on the planet.
Bo lives in (guess where?) Vermont. He hand prints these t-shirts. They are made with super soft organic cotton - and they sell for $23 each. The one we are giving away is a Woman's Size Small.
If you aren't a small, I am sure you know someone who NEEDS to wear this message to the gym. Personally, this shirt would probably fit on my pinky (I haven't seen a small since the 9th grade).
Maybe you are a MEDIUM right now, and want to be a SMALL. Enter to win this t-shirt to give you the motivation to get there. Of course, a dress by Versace in SMALL is a better motivator - but those are ALOT harder to come by.
Please share the "vegetable you wish you ate more of "below for a chance at winning this T-Shirt.
---
What will I win?
The T-Shirt photographed here from: Eat More Kale It is a Woman's Size Small. And "Eat More Kale" bumper stickers!
How do I enter?
Comment in the box below about the "vegetable you wish you ate more of"
Additional Ways To Enter:

Follow Snack-Girl on FaceBook.

Post this page to your FaceBook profile.

Follow Snack-Girl on Twitter

Tweet this post (use the Tweet Button in the Share Box at the top of this post).

Snack-Girl can follow and count all the additional entries using magical website tools.
Am I eligible to enter?
Anyone with a valid e-mail and a U.S. mailing address is eligible.
When do I find out if I am the winner?
The winner will be announced on January 7th, 2010. You will have 2 weeks to e-mail us back with your home address so we can mail the prize.
---
Want to read about snacks?
How to Replace Butter without Sacrificing Flavor
The Tiniest (and Yummiest) Pizzas on The Planet
Quick and Healthy Pizza