Winner! and EcoGroovy Snack Bag Giveaway
Snack-Girl had a record number of entrants for the Easy Lunch Box. You guys need to get some new lunch gear!! The WINNER of the Easy Lunch Box is Susan G. (via random selection). I asked people to share what they would put in it. Susan G. said: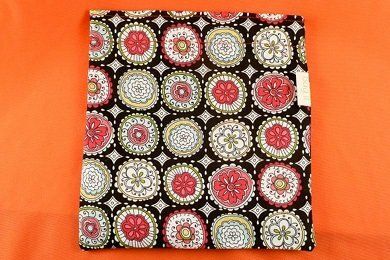 Looks like a great set up for some veggies and dip or hummus, with a side of crackers.
I hope you enjoy the lunch box! I am sad I can't give away 60 of them :(
New Snack-Bag Giveaway
Snack-Girl's giveaway this week is from: Bag It Concious
This is a great snack bag because not only is it cute - but it is almost exactly the size of a sandwich sized ziplock.
Lizzy, owner of Bag It Concious, lives near Tampa, FL. Here is her business story:
I started this environmentally concerned business a year and a half ago (July 2008) As things go, my focus has primarily turned into encouraging people to stop using plastic and go with different alternatives.
If you are in the St. Pete/Tampa, FL area come and visit me at local markets where I also offer several other alternatives to plastic bags from beautiful African baskets, to funky shopping carts, to bags made from recycled materials, jute, cotton, recycled cement bags, flour sacks, and oil cloth.
Every little change we make in our lives towards helping the environment, goes a very long way. Teaching our kids alternatives is, in my humble opinion, the best way to turn things around.
Go green! Stop plastic. Protect the environment: reuse, reduce, recycle and rejoice.
She has a bunch of different great snack bag options on her Etsy page here: Bag It Concious
And, because Snack-Girl loves new ideas:
Please tell me what snack you think should be featured on this site below for a chance at winning this snack bag.
---
What will I win?
The snack bag photographed here from: Bag It Concious
How do I enter?
Comment in the box below about a new snack for Snack-Girl to feature.
Additional Ways To Enter:

Follow Snack-Girl on FaceBook and comment on Snack-Girl's wall about your lunch for the new lunch box.

Follow Snack-Girl on Twitter and Tweet this post (use the Tweet Button in the Share Box at the top of this post).

Snack-Girl can follow and count all the additional entries using magical website tools.
Am I eligible to enter?
Anyone with a valid e-mail and a U.S. mailing address is eligible.
When do I find out if I am the winner?
The winner will be announced on February 11th, 2010. You will have 2 weeks to e-mail us back with your home address so we can mail the prize.
---
Want to read about snacks?
How to Replace Butter without Sacrificing Flavor
How to Eat More Vegetables
Save Money, Calories, and the Environment with this Yogurt
The Worst Pizza on the Planet