The Best Brand of Yogurt You Can Buy
The title here is purposely misleading. I am just trying to get you to pay attention.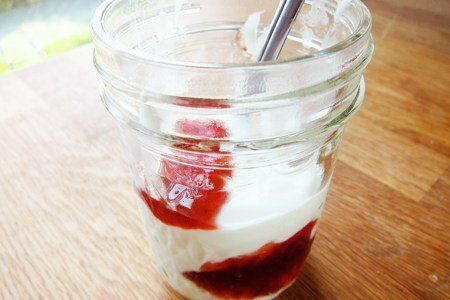 I was recently interviewed by a leading newspaper in Canada (The Globe and Mail) about single serving flavored yogurts and I found myself getting angry.
Why? DId I not get enough sleep? Noooo...
I checked into some of the yogurt brands before the interview that I thought would be relevant:
Chobani - 19 grams of sugar
Fage - 17 grams of sugar
Dannon - 17 grams of sugar

That is over 3 teaspoons in 6 ounces of so of yogurt! Wowza.
Some of you know that I am not happy with Stonyfield and stevia see: What Is This Ingredient Doing In My Stonyfield Yogurt?.
That leaves me to conclude that I have to take matters into my own hands and just stop talking about packaged yogurt. Honestly, I will not eat the stuff and I am not trying to be elitist.
It is remarkable to me how an industry can take something that is relatively healthy and turn it into a kind of junk food. Yes, it still has nutrients - but you don't need all that sugar. These yogurts can be considered dessert!!
Deep breath.
Since it is not my style to just WHINE all day long, I am offering a solution that uses the super cute mason jars that you can find at your hardware store.
Buy a case of jars, plain yogurt, and some jam and "make" your own flavored yogurt. Store them in the fridge for grab and go consumption and taste how great yogurt can be.
You will save money, the environment, and an unnecessary sugar bomb. How can you lose?
Now, I know that some of you like the "100 Calorie" size of these yogurts which I can completely understand. Not only do I not like single serving yogurt, but I don't like "zero fat" either. I like the taste of low fat yogurt and I just keep my portion size under control.
Here is a recipe for how to make your own 100 calorie yogurt. It is not as large as your regular packaged yogurt because 4 ounces of low fat yogurt is 80 calories - but it IS tasty.
You may find that after eating those other yogurts that this homemade version isn't sweet enough. Just add the amount of jam that works for you and slowly decrease it to get to a "snack" versus "treat" yogurt.
How do you deal with packaged yogurts?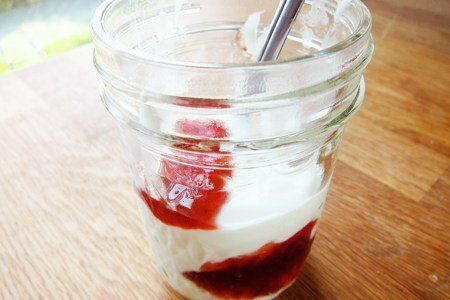 Single Serving Yogurt Recipe

(for one yogurt)

Ingredients
4 ounces plain, low fat, yogurt
1 ½ teaspoons jam (your favorite flavor)

Instructions
Mix jam and yogurt in mason jar and store in the fridge. Eat whenever you need a healthy snack.
Nutrition Facts
106 calories, 1.4 g fat, 14.2 g carbohydrates, 8.0 g sugar, 6.5 g protein, 0 g fiber, 79 mg sodium, 2 Points+
Points values are calculated by Snack Girl and are provided for information only. See all Snack Girl Recipes
Other posts you might like:
---

Snack Girl really doesn't want to pick on General Mills (the owners of Yoplait), but I feel I must....
---

Recently, Snack Girl went to the yogurt aisle and tried Yoplait Greek yogurt and wrote this award winning review: Three Reasons To Avoid Yoplait Greek Yogurt ....
---
---
Get Free Email Updates! Yes please!
---