The ONLY Chocolate Chip Cookie You Should Ever Eat
Snack Girl has a secret. With over 27 inches of snow outside her window, she can't look a vegetable in the eye.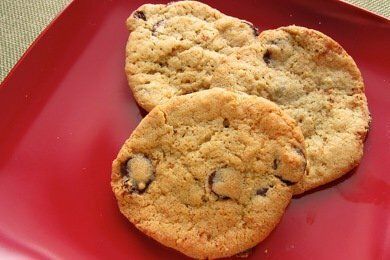 So, today, we need to talk about cookies :)
What do you do with kids that have been out of school for 2 days per week? You make cookies! And, what are the best cookies? Chocolate chip cookies!
I contend that the only chocolate chip cookie that you should ever eat is one that you make yourself. And it shouldn't be stale. Eat it as SOON after baking as humanly possible.
This is absolute heaven.
Some of you are probably frustrated right now. "Hey, Snack Girl, this is NOT a healthy snack!!" No, it isn't. But, I believe treats should be TREATS.
We can't decide a food is BAD and never eat it if we love it. We need to find ways to incorporate the food we love into our diets.
I contend that if you bake all your own bake goods, you will never eat a stale cookie from the supermarket again. Also, the recipe below is 1/2 the size of a normal chocolate chip cookie recipe. Mine makes 24 cookies - not 48.
Compared to Chips Ahoy, you are getting real butter and eggs in the recipe versus mono and diglycerides (yuck).
There is also the fun of making it yourself and the smell of cookies in your house.
Do you know that real estate agents will bake refrigerated cookie dough in a house when they show it?
Seems that the delicious smell of baking cookies facilitates large purchases :)
What kind of stuff would you get if you baked cookies?
This recipe is my favorite because I just have to remember the number one. One stick butter, one egg, one cup flour, one cup chocolate chips - if I have that in my pantry, I know we can make them.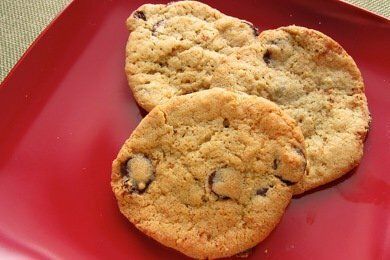 Chocolate Chip Cookie Recipe
Makes 2 dozen
Ingredients
1 stick unsalted butter
3/4 cup white sugar
1 egg
1 cup all-purpose flour or white whole wheat flour
1/4 teaspoon baking soda
1/4 teaspoon salt
1/2 teaspoon vanilla
1 cup dark chocolate chips
Instructions
Preheat oven to 375 F. If you have an electric mixer, cream butter, sugar and egg. If you don't, just soften butter in the microwave for 10 to 20 seconds (make sure it doesn't melt) and beat with a fork. Add the dry ingredients, stir in by hand and then stir in the chips. Drop spoonfuls of batter onto an ungreased cookie sheet, and bake for about 10 minutes. Cool on a rack for 10 minutes before eating.
Nutrition Facts
For one cookie - 117 calories, 6.1 g fat, 14.4 g carbohydrates, 1.4 g protein, 0 g fiber, 72 mg sodium, 3 Points+
Points values are calculated by Snack Girl and are provided for information only. See all Snack Girl Recipes
Please share any great cookie ideas or recipes.
Want to read about snacks?
Panini Extreme Makeover (Take THAT Quiznos!)
Need Some Intense Dark Twilight Delight?
Rethinking The Egg McMuffin
Love S'Mores? Try This 52 Calorie Treat
---
Get Free Email Updates! Yes please!
---