A Holiday Snack From Bran Appetit
Looking for a healthy gift for the holidays? Check out these walnuts.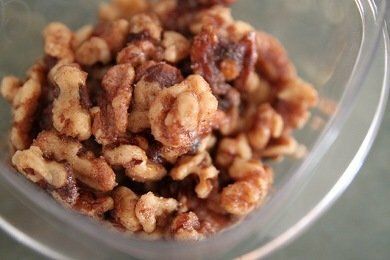 Snack Girl is thrilled to feature a post from Bran Appetit.
Brandi, author of Bran Appetit, has gone through a weight loss journey. She gained a bunch a weight in college and then did something most of us wish we could do - transform!
From Brandi:
Amazingly, my weight has stabilized now and it's easier for me to maintain now than it was the first few years after hitting my goal weight. Once I got the "good food, bad food" thoughts out of my head, eating balanced just started to become natural and not something I had to struggle with on a daily basis.
Here is a post from Bran Appetit:
Last year, my family decided to send more money to Jovenes (the orphanage we support in Honduras) and make as many Christmas gifts that we could.
Nick and I ended up putting together a basket for each "family" that had all kinds of goodies!
We made:
cinnamon sugar walnuts
sweet and spicy pecans
sugared cranberries
homemade chocolate covered toffee
chocolate dipped pretzels

And I was thinking the other day – I never posted those recipes! I think the time just got away from me during the holiday season, and I haven't thought about them since. Until now. Holiday baking is back on my mind.
So I'm finally going to share my cinnamon sugar walnut recipe!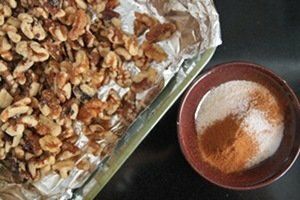 Cinnamon Sugar Walnuts Recipe

The warm, toasted cinnamon sugar coating makes these walnuts irresistible. Make sure to bake until the nuts are just toasted – the heat brings out the flavor of the walnuts and cinnamon, filling your kitchen with an incredible smell.
2 cups walnuts
2 Tbsp sugar
1 tsp cinnamon
pinch of salt
1-2 Tbsp neutral oil or melted butter

1. Preheat oven to 375 degrees.
2. Line baking dish with foil and spread out walnuts.
3. Pour oil/melted butter over nuts and add cinnamon, sugar, and salt.Toss to coat.
4. Bake for 15-20 minutes, stirring halfway through. Let cool completely before packaging. Makes 10 servings.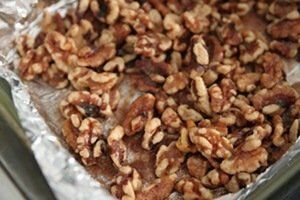 These would look great in a jar and tied with simple ribbon or tossed into a holiday printed bag.
I'd love to serve these at a holiday party, too – having a sweet roasted nut and a savory one would be a great appetizer or snack to have out for family and visitors.
Plus, homemade = cheaper and healthier, and I'm always up for that.
175 calories, 15.9 g fat, 5.2 g carbohydrates, 6.0 g protein, 1.8 g fiber
What type of homemade holiday gifts do you give? Please share.
Want to read about snacks?
A Pumpkin Spice Latte With 77 Calories
McNugget Rot Results Are In!
Get Healthy and Appy
Fast, Delicious, Healthy - What Else Could You Want?